Bipolar and MOS Analog Integrated Circuit Design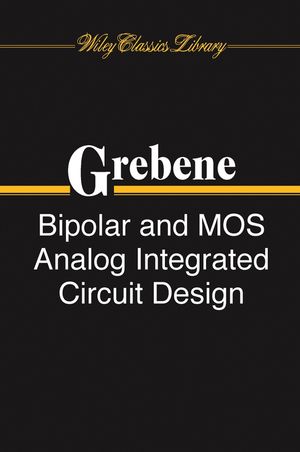 Bipolar and MOS Analog Integrated Circuit Design
ISBN: 978-0-471-43078-0
Nov 2002
912 pages
Description
A practical, engineering book discussing the most modern and general techniques for designing analog integrated circuits which are not digital (excluding computer circuits). Covers the basics of the devices, manufacturing technology, design procedures, shortcuts, and analytic techniques. Includes examples and illustrations of the best current practice.
Integrated-Circuit Fabrication.

Active Devices in Integrated Circuits.

Passive Components: Diodes, Resistors, and Capacitors.

Bias Circuits.

Basic Gain Stages.

Analog Design with MOS Technology.

Operational Amplifiers.

Wideband Amplifiers.

Analog Multipliers and Modulators.

Voltage Regulators.

Integrated-Circuit Oscillators and Timers.

Phase-Locked-Loop Circuits.

Integrated-Circuit Filters.

Data Conversion Circuits: Digital-To-Analog Converters.

Data Conversion Circuits: Analog-To-Digital Converters.

Index.