Bird Conservation on Golf Courses: A Design and Management Manual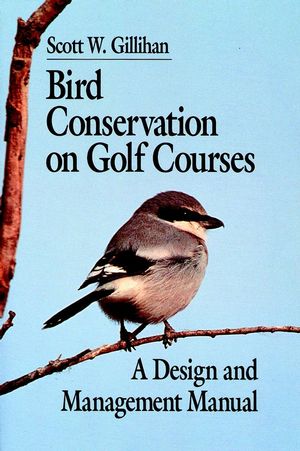 Bird Conservation on Golf Courses: A Design and Management Manual
ISBN: 978-1-575-04113-1
Nov 1999
352 pages
Description
"Golf courses and course design ate for more than golfers; good courses attract birds for the enjoyment of all. Scott Gillihan shows how to effectively create and manage courses that contribute to bird conservation."--Richard M. DeGraaf, Chief Research Wildlife Biologists, USDA Forest Service

"Golf courses are habitat for birds. Scott Gillihan does a superb job describing the bird management possibilities for managers of golf courses and other habitats. May the day come when golfers in conference at the 19th hole talk about two kinds of birdies that added to the day's enjoyment."--Jack Ward Thomas, Boone and Crockett Professor of Wildlife Conservation, University of Montana

"The book will be an important reference for golf course management professionals who wish to be good stewards of birds and other wildlife on their property. The conservation philosophy and guidance that you offer should allow conscientious superintendents to establish a sound approach to bird conservation on their courses."--Thomas M. Franklin, Wildlife Policy Directory, The Wildlife Society
Chapter One. Why Should Golf Courses Benefit Birds?

Why birds?

Birds need help.

Golf can be good for birds.

Birds can be good for golf.

Which birds?

Chapter Two. Basic Principles of Bird Biology.

The types of birds.

Habitat needs of birds.

Chapter Three. Conservation Efforts at Large Scales.

Patches.

Edges.

Corridors.

Nature preserve design concepts.

Which habitat patches and corridors?

Creating habitat patches.

Adjacent land use.

Buffer zones.

Golf courses in the landscape.

Incorporate nature.

Chapter Four. Conservation Efforts at Small Scales.

Structural diversity.

Planting with natives.

Snags.

Nest structures.

Feeders.

Baths.

Brush pile.

Water features.

Additional ideas.

Chapter Five. Course Maintenance.

Pesticide use.

Managing habitat patches.

other maintenance issues.

Chapter six. Problems with birds.

Waterfowl.

Nest defenders.

Woodpeckers.

Perching flocks.

Collisions with windows.

Chapter Seven. Highlight Birds.

Loggerhead shrike.

Purple Martin.

Bluebirds.

Hummingbirds

Shorebirds.

Chapter Eight. Other Golf Course Residents.

Bats.

Butterflies.

Glossary.

References.

Appendix One: Sources of Additional Information.

Appendix Two: Plants for Birds.

Appendix Three: Artificial Nest Structures.

Appendix Four: Breeding Bird Lists.

Appendix Five: Habitat Requirements of Breeding Birds.