Bird Watching For Dummies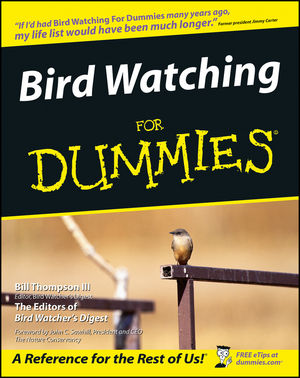 Bird Watching For Dummies
ISBN: 978-0-764-55040-9 October 1997 432 Pages
Description
Millions of people worldwide enjoy bird watching; it offers them a chance to get back to nature and enjoy the beauty of the outdoors.
Bird Watching For Dummies
covers all the basics of bird watching, leading you on a guided tour of the gorgeous world of birds. From identifying birds by sight and sound to making your own "life list," you'll find all the tips and advice you need right here.
Whether you've been bird watching for years or you're just starting out, Bird Watching For Dummies has all your bases covered. It's full of practical tips and proven advice to make your bird watching experiences as fun and rewarding as possible. It's your first aid kit for finding, identifying, feeding, and even housing birds. Plus, there's more:
Designing a bird-friendly backyard
Purchasing bird feeders, birdhouses, binoculars, clothing, and more
Keeping notes and records of the birds you spot
Joining bird clubs, taking field trips, and attending bird festivals
Booking bird watching tours that fit your budget and expertise
Choosing and using field guides
You won't find a more straightforward and reliable bird watching guide than this one. Written by Bill Thompson III, and the staff of Bird Watcher's Digest, it covers everything from backyard bird watching to field trips across the globe. No matter what your level of experience, this guide offers everything you need for unforgettable bird watching:
Tackling pests and other feeder problems
Bird-friendly gardening tips
Optics and how to use them
Birding by habitat and hotspots
Songs, calls, and non-vocal identifying sounds
Attracting and spotting hummingbirds
Understanding the terminology
Dressing for success
If you need help getting started in your new hobby, or you're an old hand who just wants a quick-and-easy reference, Bird Watching For Dummies is the fun and simple way to stay up on all the latest in the world of bird watching. With unbeatable advice and practical guidance from the experts at Bird Watcher's Digest, this handy resource is the only bird watching guide you need.

NOTE: Birdwatching For Dummies no longer contains a 32 page color insert.
Table of contents
Foreword.

Introduction.

About This Book.

Why You Need This Book.

How to Use This Book.

How This Book Is Organized.

Part I: Watching Birds: A Natural Habit.

Part II: Backyard Bird Watching.

Part III: Bird Sighting 101: Using Your Tools.

Part IV: Beyond the Backyard.

Part V: Once You're Hooked.

Part VI: The Part of Tens.

Appendix.

Icons Used in This Book.

Part I: Watching Birds: A Natural Habit.

Chapter 1: Birds and the People Who Love Them.

Chapter 2: Tools that Take You Up Close and Personal.

Chapter 3: Identifying Birds ("If It Walks Like a Duck . . .").

Chapter 4: Watching Bird Behavior.

Chapter 5: Bird Sounds: News and Entertainment.

Part II: Backyard Bird Watching.

Chapter 6: Making a Bird-Friendly Yard.

Chapter 7: Bird Feeding: The Start of It All.

Chapter 8: Tackling Pests and Other Feeder Problems.

Chapter 9: Nest Boxes and Box Monitoring.

Chapter 10: Gardening for the Birds.

Chapter 11: Hummers, Bluebirds, Martins, and Hawks.

Part III: Bird Sighting 101: Using Your Tools.

Chapter 12: Optics and How to Use Them.

Chapter 13: Choosing and Using Field Guides.

Chapter 14: Expanding Your Skills.

Chapter 15: Writing It Down.

Part IV: Beyond the Backyard.

Chapter 16: Taking a Field Trip.

Chapter 17: Birding by Habitat.

Chapter 18: Birding Hotspots.

Chapter 19: Birding Tours: On Site with a Pro.

Chapter 20: Festivals and Other Events.

Part V: Once You're Hooked.

Chapter 21: Birding that Makes a Difference.

Chapter 22: Better Optics and Other Fun Gear.

Chapter 23: Advanced Bird ID.

Chapter 24: Field Sketching.

Chapter 25: Birding Online (Nesting on the World Wide Web).

Chapter 26: Other Flying Creatures.

Part VI: The Part Of Tens.

Chapter 27: Ten (+ Ten) Tips for When (And When Not) to Use Your Binoculars.

Chapter 28: Bill's Ten Favorite Hotspots.

Chapter 29: Ten Bird Myths.

Appendix.

Index.

Registration Card.