Bivalve Molluscs: Biology, Ecology and Culture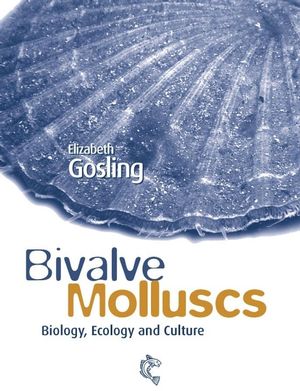 Bivalve Molluscs: Biology, Ecology and Culture
ISBN: 978-0-470-99553-2 November 2007 Wiley-Blackwell 456 Pages
Description
Bivalve Molluscs
is an extremely comprehensive book covering all major aspects of this important class of invertebrates. As well as being an important class biologically and ecologically, many of the bivalves are fished and cultured commercially (e.g. mussels, oysters, scallops and clams) in a multi-billion dollar worldwide industry.
Elizabeth Gosling who has a huge wealth of research, teaching and hands on experience working with bivalves, has written a landmark book that will stand for many years as the standard work on the subject. Chapters in Bivalve Molluscs cover morphology, ecology, feeding, reproduction, settlement and recruitment, growth, physiology, fisheries, aquaculture, genetics, diseases and parasites, and public health issues. A full understanding of many of these aspects is vital for all those working in bivalve fisheries and culture.

An essential purchase for anyone concerned with this important class of animals, copies of Bivalve Molluscs should be on the shelves of biologists, ecologists, environmental scientists, fisheries scientists and personnel within the aquaculture industry. Copies of the book should be available in all libraries and research establishments where these subjects are studied or taught.

Elizabeth Gosling is based at the Galway-Mayo Institute of Technology, Galway, Ireland.
Table of contents
Preface.
Acknowledgements.
1. An Introduction to Bivalves.
2. Morphology of Bivalves.
3. Ecology of Bivalves.
4. How Bivalves Feed.
5. Reproduction, Settlements and Recruitment.
6. Bivalve Growth.
7. Circulation, Respiration, Excretion and Osmoregulation.
8. Fisheries Management of Natural Populations.
9. Bivalve Culture.
10. Genetics in Aquaculture.
11. Diseases and Parasites.
12. Public Health.
Subject Index.
Species Index
Reviews
"Although written for undergraduates, its wealth of infomation, data and extensive reference list will be of value to graduate students, academics and aquaculturists, fisheries laboratories and statutory bodies, and commercial aquaculture companies."
CAB Abstracts, 2005.

"The motivation to write this book came when the author realized that there was no single text covering all aspects of the biology, ecology and culture of bivalve molluscs, despite their economic importance. This long-awaited volume is an admirable acheivement of the ambition to meet this need... a valuable addition to marine sciences libraries everywhere. The back cover of this book says that it is a landmark text that will stand for many years as the standard work on this subject. I can only agree with this sentiment."
Ian Laing, Aquaculture, 2004.

"The book is a welcome addition to the literature and provides the reader with a comprehensive overview of biological and environmental factors that affect and control both natural populations of marine bivalves and culture operations. The book will prove to be a good text for undergraduates and it could inspire some of them to undertake careers in the field of molluscan biology."
Neil Bourne, Aquaculture International, 2003.

"I found this a most readable book that presents a comprehensive overview of commercially important bivalve molluscs... Considerable skill has been shown in reviewing this vast literature."
National Shellfish Association Newsletter

"This text provides a comprehensive and up-to-date intoduction to the biology, ecology and culture of the bivalve molluscs."
Farmers Market Online

"Extensively illustrated, the text is presented in a clear, concise, and easy-to-read style and includes up-to-date references and suggestions for further reading." Journal of the American Water Resources Association

"The book is very readable, in an easy style. It is well illustrated and there is a wealth of data and statistics presented."
Liz Harper, Bulletin of The Malacological Society of London

"This large and comprehensive book is a must read, study or digest for anyone involved with the growing or capture of molluscs. While written very much from a North Atlantic cool water perspective, much of the information that the book contains will be of considerable universal value. A most important textbook." Fishing Boat World, April 2004
What's New
* comprehensive essential purchase for all shellfish farming industry personnel
* author has an international reputation in shellfish research and has more than 15 years' experience in teaching shellfish biology to undergraduate students