Black Books Galore!: Guide to More Great African American Children's Books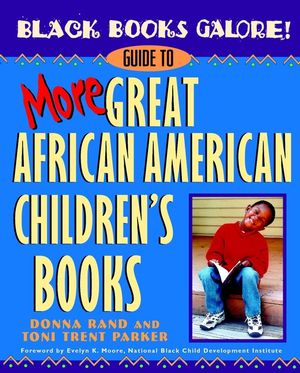 Black Books Galore!: Guide to More Great African American Children's Books
ISBN: 978-0-471-37525-8 July 2001 256 Pages
Description
Kudos for Black Books Galore! Guide to Great African AmericanChildren s Books

"Offers a wonderful overview of literature with black children inits focus." Jim Trelease, author, The Read-Aloud Handbook

"The perfect tool for parents and educators alike." BlackEnterprise magazine

"This is a great resource that fills a tremendous need. It shouldbe on parents shelves at home as well as in every school." Alvin F.Poussaint, M.D., Harvard Medical School

Black Books Galore! the nation s leading organizer of AfricanAmerican children s book festivals enriches the world of readingfor kids of every age. Find out what s new, acclaimed, andempowering in this up-to-the-minute guide.

Black Books Galore! Guide to More Great African American Children sBooks includes the latest reviews along with other exciting newmaterials. This easy-to-use, illustrated reference guide featuresthe best-written, most positive books starring African Americans,including:
* Quick and lively descriptions of over 400 titles, plus 200additional recommendations
* A calendar of great books to match the holidays and seasons
* Age-specific guidelines for encouraging your young readers frombabies to sixth graders
* Comprehensive indexes by title, topic, author, andillustrator
* Profiles and reflections of selected authors andillustrators
* Listings of award winners and Reading Rainbow Books
Table of contents
Foreword by Evelyn K. Moore.

Acknowledgments.

Introduction.

How Good Books Help Children Grow by James P. Comer, M.D.

How to Use This Guide.

"The Season for Reading" Calendar.

Books for Babies and Preschoolers.

Books for Early Readers: Grades K-3.

Books for Middle Readers: Grades 4-8.

Appendix A: Books for Parents and Families.

Appendix B: Book Awards.

The Coretta Scott King Awards.

The Newbery Awards.

The Caldecott Awards.

Reading Rainbow Selections.

Appendix C: Reading Interest Web Sites.

Index of Titles.

Index of Authors.

Index of Illustrators.

Index of Topics.