Black Feminist Cultural Criticism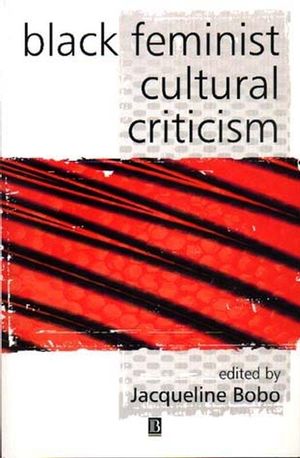 Black Feminist Cultural Criticism
ISBN: 978-0-631-22240-8 February 2001 Wiley-Blackwell 364 Pages
Description
Black Feminist Cultural Criticism is the first comprehensive analysis of the full range of Black women's creative achievements. In this outsdanding collection, writers and scholars in literature, film, television, theatre, music, art, material culture, and other cultural forms explicate Black women's artistry within the context of an activist framework. The contributors are concerned with the politics of cultural production and the ways in which Black women have confronted institutional and social barriers.
Preface: Bearing Witness.
Part I: Foundations.
Overview.
1. Their Fiction Becomes Our Reality: Black Women Image Makers. (Mary Helen Washington).
2. Toward a Black Feminist Criticism. (Barbara Smith).
3. New Directions for Black Feminist Criticism. (Deborah E. McDowell).
4. But What Do We Think We Are Doing Anyway: The State of Black Feminist Criticism(s) or My Version of a Little Bit of History. (Barbara Christian).
Supplementary Readings.
Media Resources.
Part II: The Moving Image.
Overview.
5. Some Reflections on the Negro Actress: The Tattered Queens. (Ruby Dee).
6. Daughters of the Dust. (Jacqueline Bobo).
7. Below the Line: (Re)Calibrating the Filmic Gaze. (C. A. Griffith).
8. In My Mother's House: Black Feminist Aesthetics, Television, and A Raisin in the Sun. (Sheri Parks).
Supplementary Readings.
Media Resources.
Part III: Art.
Overview.
9. African-American Women Artists: An Historical Perspective. (Arna Alexander Bontemps and Jacqueline Fonvielle-Bontemps).
10. In Search of a Discourse and Critique/s That Center the Art of Black Women Artists. (Freida High W. Tesfagiorgis).
11. In Their Own Image. (Kellie Jones).
12. The Freedom to Say What She Pleases: A Coversation with Faith Ringgold. (Melody Graulich and Mara Witzling).
Supplementary Readings.
Media Resources.
Part IV: Music and Spoken Word.
Overview.
13. Black Women and Music: A Historical Legacy of Struggle. (Angela Y. Davis).
14. Never Trust a Big Butt and a Smile. (Tricia Rose).
15. Divas Declare a Spoken-Word Revolution. (Evelyn McDonnell).
16. 'A Laying on of Hands': Transcending the City in Ntozake Shange's for Colored Girls who have Considered Suicide when the Rainbow is Enuf. (Carolyn Mitchell).
Supplementary Readings.
Media Resources.
Part V: Material Culture.
Overview.
17. The Uses of the Erotic: The Erotic as Power. (Audre Lorde).
18. African American Quilts: Paradigms of Black Diversity. (Cuesta Benberry).
19. Harriet Powers: Portrait of An African-American Quilter. (Gladys-Marie Fry).
20. Empathy, Energy, and Eating: Politics and Power in The Black Family Dinner Quilt Cookbook. (Sally Bishop Shigley).
Supplementary Reading.
Media Resources.
Contributors.
Media Resources Directory of Distributors.
Bibliography.
Index.
"Jacqueline Bobo helps us to see afresh the conscious creativity underlying Black women's cultural productions. What we have here is not so much 'criticism' as a reframed revelation."
Akasha Gloria Hull, University of California, Santa Cruz
.
"Professor Bobo's text consist of seminal sources on Black women and Black feminist thought that will quicken and enliven contemporary discourse. It is an important work." Patrick Bellegarde-Smith, University of Wisconsin-Milwaukee.


Explores the spectrum of Black women's cultural expression.


Includes a preface, chapter overviews, suggestions for supplementary readings, and a media resources guide.


Offers the most wide-ranging examination of the art forms and artists who have advanced the causes of Black women.