Black Tie Optional: A Complete Special Events Resource for Nonprofit Organizations, 2nd Edition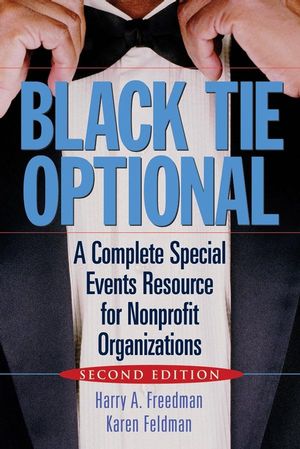 Black Tie Optional: A Complete Special Events Resource for Nonprofit Organizations, 2nd Edition
ISBN: 978-0-470-11681-4
Apr 2007
240 pages
Description
Praise for Black Tie Optional: A Complete Special Events Resource for Nonprofit Organizations, Second Edition
"I wish I had had this invaluable book when I was helping plan fundraisers in the past. My life would have been easier, and our bank account healthier. Don't torture yourself: get this book, follow its advice and be a hero!"
—Richard B. Stolley, Senior Editorial Adviser, Time, Inc. Founding Editor, People magazine
"Black Tie Optional is anything but an optional read. This step-by-step guide on how to strategize and execute a successful fundraiser is essential to anyone considering how best to tackle the complicated world of event planning. Black Tie Optional is the archetypal roadmap for those undertaking the rewarding yet overwhelming journey of successful fundraising. An absolute must read!"
—Cathy Elkies, Senior Vice President and Charity Auctioneer, Christie's
"Harry Freedman knows how to plan an event. He has it down to an art. "
—World-renowned artist PETER MAX
Regardless of the kind of big event your organization has planned for its next fundraiser, everything you need to know and do is in this thorough and essential handbook. Now in a Second Edition, Black Tie Optional demystifies the process and makes it as easy as possible to have a successful event that generates money as well as new supporters. Authors and industry experts Harry Freedman and Karen Feldman cover all the angles and show you how to:
Decide on the best kind of event for your organization
Select the best location and date for your event
Develop budgets
Reach and book celebrities
Create invitations and get publicity
Set ticket prices
Organize and motivate your committees
This handy, how-to manual takes you step by step through the entire process of selecting and producing simple and complicated events and arms you with all the information you need, including practical advice, real-world examples from actual events, summary checklists, and worksheets. Black Tie Optional is destined to become your dog-eared blueprint for making money and allies in the name of your cause.
About the Authors.
Acknowledgments.
Introduction.
Chapter 1: Choosing the Right Event.
Marketing.
Sample Events.
Thinking It Through.
Time and Date.
Chapter 2: Money Matters.
Location.
Lights and Sound.
Food and Catering.
Feeding Workers.
Entertainment.
Decorations.
Security.
Insurance.
Getting Graphic.
Publicity.
Care and Feeding of Committees.
Free Tickets.
Postage.
Specialized Costs.
Special Event Planners.
Setting Ticket Prices.
Double Checking.
Chapter 3: Who's In Charge?
Picking an Event Coordinator/Manager.
The Event Manager's Job.
Getting Started.
Financial Control.
Chapter 4: Committees and Commitments.
The Recruiting Process.
Motivating the Troops.
Working Committees.
Volunteer Retention.
Regal Recognition.
Chapter 5: Other People's Money.
Media First.
Getting Maximum Support.
Other Creative Sponsorships.
Tapping into Money.
Following Up.
Conflicts of Interest.
Chapter 6: On Location.
Researching the Right Site.
Site Considerations.
Setting Sites.
Chapter 7: Food, Glorious and Otherwise.
Critical Details.
Ideas for Meals, Food, and Settings.
Caterers.
All Dressed Up.
Look to the Experts.
Going It Alone.
Time-Savers.
At the Site.
If Disaster Strikes.
Liquor and Other Beverages.
Feeding Staff and Volunteers.
Leftovers.
Tipping.
Chapter 8: Auctions and Other Profit Boosters.
Internet Auctions.
Up Close and Personal.
Advertising.
Chapter 9: Reaching for the Stars.
When Free Costs Money.
Lining Up a Celebrity.
Serious Stargazing.
Harnessing Star Power.
Royal Treatment.
Chapter 10: The Media and the Message.
Media Promotion.
Invitation Events.
Identification.
Multipart Invitations.
Advance Notice.
A Fresh Look.
Ordering Invitations.
Time Frame.
Getting Them Out.
Following Up.
Promotion.
Minding the Media.
Public Service Announcements.
Talk, Talk.
Print Media.
Making News.
Promotion Time Frame.
Other Publicity.
Chapter 11: The Final Countdown.
Checking It Twice.
Last-Minute Needs.
Registration.
Chapter 12: After Words.
Post-Event Evaluation.
Chapter 13: Tools of the Trade.
Auctions/Raffles.
Celebrity Sources.
Speakers' Bureaus.
Charity Watchdogs/Databases.
Credit Cards.
Donor Gifts.
Fundraising Consultants/Event Management.
Fundraising/Trade Organizations.
Online Resources.
Promotional Materials.
Publications.
Software.
Travel Sources.
Web-Site Management.
Index.
Harry Freedman is one of the country's leading special-events producers—he has appeared as a fundraising expert on Dateline NBC and CNBC, as well as in Forbes magazine.

Freedman is frequent speaker and seminar panelist at conferences for national, regional, and local fundraising organizations.

Book contains a comprehensive, step-by-step approach to selecting and then producing simple or complicated events.

Offers real-world examples from actual events, special tips, and summary checklists that would be useful for students.