Black and White Digital Photography Photo Workshop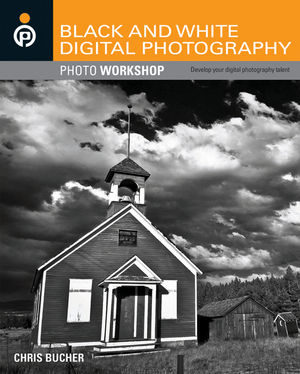 Black and White Digital Photography Photo Workshop
ISBN: 978-0-470-42193-2 May 2011 304 Pages
Description
How to create stunning black and white photos in a digital format
Shooting pictures in black and white presents unique challenges for beginners and experienced digital photographers alike. A strong understanding of photography's fundamentals is crucial to capturing great black and white images, and factors such as contrast and lighting are much more integral to black and white photography than to color. Black and White Digital Photography Photo Workshop teaches digital photographers the skills they need to master black and white photography.
Focuses on the rules of photography and how they apply differently to black and white photography
Offers guidance for properly uploading digital images to a computer
Explains insider tips and tricks for using Photoshop and Lightroom to successfully enhance black and white images
Black and white photography presents different challenges than color photography. In Black and White Digital Photography Photo Workshop, photographers learn how to identify great opportunities for black and white photographs and how to turn those opportunities into stunning monochrome images they can be proud to display.
Table of contents
CHAPTER 1 Black-and-white Vision.
Why Black and White?
Creating Black-and-white Images.
Visualizing in Monochrome.
Selecting Your Images.
Timing the Moment.
When Should You Use Black and White?
Finding Photos Wherever You Are.
CHAPTER 2 Photography Fundamentals.
Exposure.
Aperture, Shutter Speed, and ISO.
White Balance.
Composition.
Your Unique Point of View.
CHAPTER 3 Getting the Most Out of Your Camera.
Read the Manual.
Knowing the Controls.
Using the Exposure Modes.
File Settings.
Adjusting Tone and Contrast in Camera.
White Balance Questions.
Using Filters.
Settings to Start with.
CHAPTER 4 Working With Light.
Metering and Exposure for Black and White.
Zone System Basics.
Learning Your Metering Systems.
Light Direction.
Light Quality.
Looking for Landscape Lighting.
Great Light for People and Portraits.
Dealing with Tones at Twilight.
Black and White After Dark.
CHAPTER 5 Tools and Toys.
Infrared Digital Photography.
Lensbaby.
Black and White by Your Side.
Strobes.
Tripods.
CHAPTER 6 Tonal Quality in Black and White.
Colors in Black and White.
Tones and Contrast.
Working with Shadows and Contrast.
Light Quality.
Dealing with Weather.
Looking for Highlights.
Building Depth in the Shadows.
CHAPTER 7 The Black-and-white Digital File.
Converting to Monochrome.
Learning from Film Filters.
RAW or JPEG?
Digital RAW Black-and-white Conversions.
CHAPTER 8 Working in the Digital Darkroom.
Understanding Local and Global Changes.
Multiple RAW Processing.
Working with Adjustment Layers.
Dodging and Burning.
Layer Masks.
Shadow and Highlight Tool.
Additional Filters and Tools.
Selective Effects.
Film Simulations.
Create Your Own Workflow.
CHAPTER 9 Toning, Coloring, and Special effects.
Old-process Effects.
Adding Tints and Tones.
Split Toning.
Coloring Monochrome Images.
Infrared Effects.
High Dynamic Range.
Compositing New Images.
CHAPTER 10 Output: Printing and Presentation.
Inkjet Printers and Papers.
Calibrating your Equipment.
Creating Black-and-white Prints.
Digital Output Options and Ideas.
Glossary.
Index.