BlackBerry Storm For Dummies, 2nd Edition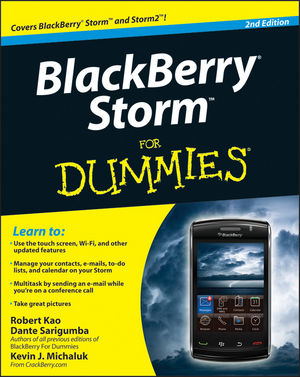 BlackBerry Storm For Dummies, 2nd Edition
ISBN: 978-0-470-61774-8
Dec 2009
312 pages
Description
Take your smartphone by storm and learn how to maximize its performance
RIM's next generation release of the BlackBerry Storm features an updated touch screen keyboard and WiFi. It's also noticeably thinner, lighter, and faster! With this updated release comes new—and more complex—features. This easy-to-understand guide provides you with valuable information to unlock the full potential for this powerful handheld.
Focused on the new and exciting features of the BlackBerry Storm, this book shows you how to use the touch screen, enter and maintain your contacts, manage your appointments and meetings, create and manage your To-Do lists, and much, much more.
Introduces the new WiFi capabilities of the BlackBerry Storm
Shows you how to get organized with your contacts, appointments, meetings, e-mail, and more
Demonstrates how to sync up with your desktop
Helps you find your way by using your BlackBerry Storm as a GPS device Provides instructions for taking great photos
Learn to take full advantage of everything your new BlackBerry Storm has to offer!
Introduction.
Part I: Meet and Greet Your BlackBerry Storm.
Chapter 1: Your BlackBerry Is Not an Edible Fruit.
Chapter 2: Navigating the BlackBerry Storm.
Chapter 3: Whipping Up a Storm of Your Own.
Part II: Getting Organized and Online with Your Storm.
Chapter 4: Remembering and Locating Your Acquaintances.
Chapter 5: Keeping Your Appointments.
Chapter 6: Setting Alarms and Keeping Your Passwords.
Chapter 7: You've Got (Lots of) E-Mail.
Chapter 8: Too Cool for E-Mail.
Chapter 9: Instant Messaging.
Chapter 10: Surfi ng the Internet Wave.
Part III: Going Multimedia with Your Storm.
Chapter 11: Taking Great Pictures.
Chapter 12: Satisfying Your Senses with Media Player.
Chapter 13: Getting around with BlackBerry GPS.
Chapter 14: Calling Your Favorite Person.
Part IV: Working with BlackBerry Desktop Manager.
Chapter 15: Syncing the Synchronize Way.
Chapter 16: Switching Devices.
Chapter 17: Protecting Your Information.
Chapter 18: Installing and Managing Third-Party Applications.
Part V: The Part of Tens.
Chapter 19: Ten Great Storm Accessories.
Chapter 20: Ten Fun Games for Your Storm.
Chapter 21: Ten Important Types of Web Sites.
Index.