BlackBerry Storm For Dummies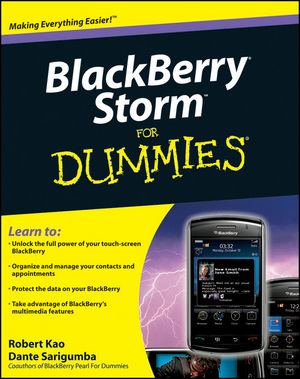 BlackBerry Storm For Dummies
ISBN: 978-0-470-47786-1
Apr 2009
312 pages
Description
The long-awaited BlackBerry Storm is here! Take advantage of all the cool things your new touch-screen BlackBerry can do with BlackBerry Storm For Dummies.

Your BlackBerry Storm can help you organize your calendar, surf the Internet, and stay in constant contact. it even works like a modem for your laptop. BlackBerry Storm For Dummies shows you how to unlock all of the exciting capabilities of your BlackBerry Storm. You'll discover how to:
Customize your BlackBerry Storm, learn to navigate the touch screen, manage power consumption, and protect your device
Set up your contacts, keep notes, synchronize lists with your desktop, and manage your calendar
Keep in touch with e-mail, PIN-to-PIN and instant messaging, and phone calls
Browse the Internet and keep track of key sites
Play music and videos, take pictures or mini-movies, and tune in the news
Activate Storm's built-in GPS and use Google Maps or BlackBerry Map
Synchronize your BlackBerry with your desktop so your data is consistent wherever you go
Prepare your laptop to use your BlackBerry Storm as a modem
Install and manage third-party applications
Keep your personal information safe
You'll find tips for tapping and thumbing the touch screen, secrets for taking great photos and videos, and even fun games to play on your Storm. Whether you're upgrading from an earlier model or you just got your first BlackBerry, BlackBerry Storm For Dummies helps you utilize everything this handy device has to offer.
Introduction.
Part I: Meeting and Greeting Your BlackBerry Storm.
Chapter 1: Your BlackBerry Is NOT an Edible Fruit.
Chapter 2: Navigating the BlackBerry.
Chapter 3: Whipping Up a Storm of Your Own.
Part II: Getting Organized with Your Storm.
Chapter 4: Remembering and Locating Your Acquaintances.
Chapter 5: Keeping Your Appointments.
Chapter 6: Making Notes and Calculations.
Part III: Getting Multimedia and Online with Your Storm.
Chapter 7: You've Got (Lots of) E-Mail.
Chapter 8: Too Cool for E-Mail.
Chapter 9: Surfi ng the Internet Wave.
Chapter 10: Calling Your Favorite Person.
Chapter 11: Taking Great Pictures with Your Storm.
Chapter 12: Satisfying Your Senses with the Media Player.
Chapter 13: Getting around with BlackBerry GPS.
Part IV: Working with Desktop Manager.
Chapter 14: Syncing the Synchronize Way.
Chapter 15: Switching Devices.
Chapter 16: Protecting Your Information.
Chapter 17: Installing and Managing Third-Party Applications.
Part V: The Part of Tens.
Chapter 18: Ten Great BlackBerry Storm Accessories.
Chapter 19: Ten Must-Have BlackBerry Programs.
Chapter 20: Ten Web Site Categories for Storm Browsing.
Index.