Blackwell's Five-Minute Veterinary Consult: Equine, 2nd Edition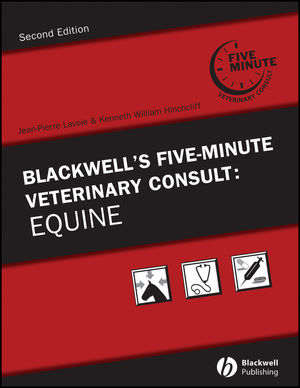 Blackwell's Five-Minute Veterinary Consult: Equine, 2nd Edition
ISBN: 978-0-813-81487-2
Feb 2009
912 pages
Description
Blackwell's Five-Minute Veterinary Consult: Equine, Second Edition is a concise, comprehensive resource for all topics related to equine medicine. Now fully revised and updated, this authoritative quick reference provides thorough coverage of practical information, arranged alphabetically for efficient searching.


Bringing together the expert knowledge of 175 contributors, the popular Five-Minute Veterinary Consult format allows rapid access to complete coverage of nearly 500 diseases and conditions seen in the horse. This reference is an essential tool for students and practicing veterinarians to quickly diagnose and treat equine patients.
Buy Both and Save 25%!
Original Price:$340.98
Purchased together:$255.74
save $85.24
Cannot be combined with any other offers.
Abdominal Distention in the Adult Horse 2
Abdominal Hernia in Adult Horses 4
Abdominocentesis 6
Abnormal Estrus Intervals 8
Abnormal Scrotal Enlargement 10
Abnormal Testicular Size 12
Abortion, Spontaneous, Infectious 14
Abortion, Spontaneous, Noninfectious 18
Acer rubrum (Red Maple) Toxicosis 22
Acidosis, Metabolic 24
Acidosis, Respiratory 26
Actinobacillosis 28
Acute Adult Abdominal Pain–Acute Colic 30
Acute Epiglottiditis 32
Acute Hepatitis in Adult Horses (Theiler's Disease) 33
Acute Renal Failure (ARF) 34
Acute Respiratory Distress Syndrome in Foals 36
Adenovirus 38
Adrenal Insufficiency 39
Aflatoxicosis 40
African Horse Sickness 41
Agalactia/Hypogalactia 42
Aggression 44
Alkaline Phosphatase (ALP) 46
Alkalosis, Metabolic 48
Alkalosis, Respiratory 50
Alopecia 52
Amitraz Toxicosis 55
Ammonia, Hyperammonemia 56
Amylase, Lipase, and Trypsin 58
Anaerobic Bacterial Infections 60
Anaphylaxis 63
Anemia 64
Anemia, Pure Red Cell Aplasia 66
Anemia, Heinz Body 68
Anemia, Immune-Mediated 70
Anemia, Iron Deficiency 72
Anestrus 74
Angular Limb Deformity 76
Anhidrosis 78
Anorexia and Decreased Food Intake 80
Anthrax 82
Anticoagulant Rodenticide Toxicosis 83
Anuria/Oliguria 84
Aortic Regurgitation 86
Aortic Root Rupture 88
Arsenic Toxicosis 91
Artificial Insemination 92
Arytenoid Chrondopathy 95
Ascarid Infestation 96
Aspartate Aminotransferase (AST) 98
Aspiration Pneumonia 100
Atheroma of the False Nostril 101
Atopic Dermatitis 102
Atrial Fibrillation 104
Atrial Septal Defect 108
Aural Plaques 110
Azotemia and Uremia 112
Babesiosis 114
Back Pain 116
Bacteremia/Septicemia 118
Bacterial Dermatitis–Methicillin-Resistant Staphylococci 120
Bacterial Dermatitis–Superficial 122
Bacterial Meningitis, Neonate 124
Basisphenoid/Basioccipital Bone Fracture 125
Bile Acids 126
Bilirubin (Hyperbilirubinemia) 128
Blindness Associated with Trauma 130
Blood Culture 132
Blood Transfusion Reactions 134
Blue-Green Algae 135
Bordetella bronchiseptica 136
Borna Disease 137
Botulism 138
Botulism, Neonate 141
Bradyarrhythmias 142
Broad Ligament Hematoma 144
Brucellosis 145
Bruxism 146
Burdock Pappus Bristle Keratopathy 148
Calcific Band Keratopathy 149
Calcium, Hypercalcemia 150
Calcium, Hypocalcemia 152
Cantharidin Toxicosis 154
Cardiotoxic Plants 156
Castration, Henderson Castration Instrument 158
Castration, Routine 159
Centaurea spp. Toxicosis 160
Cerebellar Abiotrophy 161
Cervical Lesions 162
Cervical Vertebral Malformation 164
Cestrum diurnum (Day-Blooming Jessamine) Toxicosis 165
Chloride, Hyperchloremia 166
Chloride, Hypochloremia 168
Cholelithiasis 170
Chorioretinitis 171
Chronic Progressive Lymphedema 172
Chronic Renal Failure (CRF) 174
Chronic Weight Loss 176
Cleft Palate 177
Clitoral Enlargement 178
Clostridial Myositis 180
Clostridium difficile Enterocolitis 182
Coagulation Defects, Acquired 184
Coagulation Defects, Inherited 186
Coccidiomycosis 188
Coccidiosis 189
Colic–Chronic/Recurrent 190
Colic in Foals 192
Conception Failure 195
Congenital Cardiac Abnormalities 198
Conium maculatum (Poison Hemlock) Toxicosis 200
Conjunctival Diseases 202
Contagious Equine Metritis (CEM) 204
Corneal/Scleral Lacerations 206
Corneal Stromal Abscesses 207
Corneal Ulceration 208
Corynebacterium pseudotuberculosis 210
Cough 212
Creatine Kinase (CK) 214
Cryptorchidism 216
Cyanide Toxicosis 218
Cytology of Bronchoalveolar Lavage (BAL) Fluid 219
Cytology of Tracheal Aspiration (TA) Fluid 220
Dacryocystitis 222
Degenerative Myeloencephalophathy 224
Delayed Uterine Involution 226
Dermatomycoses, Subcutaneous 228
Dermatomycoses, Superficial 230
Dermatophilosis 232
Diaphragmatic Hernia 233
Diarrhea, Neonatal 234
Dicumarol (Moldy Sweet Clover) Toxicosis 236
Diseases of the Equine Nictitans 238
Disorders of Sexual Development 240
Disorders of the Thyroid: Hypo- and Hyperthyroidism 242
Disseminated Intravascular Coagulation 244
Distal and Proximal Interphalangeal Joint Disease 246
Distal Tarsitis 248
Dorsal Displacement of the Soft Palate 250
Dorsal Metacarpal Bone Disease 252
Dourine 254
Duodenitis–Proximal Jejunitis (Anterior Enteritis, Proximal Enteritis) 256
Dynamic Collapse of the Upper Airway 258
Dystocia 260
Early Embryonic Death (EED) 262
Eastern (EEE), Western (WEE), and Venezuelan (VEE) Encephalitides 264
Eclampsia 266
Ectoparasites 268
Ehrlichiosis, Equine Granulocytic 270
Embryo Transfer (ET) 272
Endometrial Biopsy 274
Endometritis 276
Endotoxemia 280
Enterolithiasis 282
Eosinophilia and Basophilia 284
Eosinophilic Keratitis 285
Epiglottic Entrapment 286
Equine Cushing's Disease 288
Equine Metabolic Syndrome (EMS)/Insulin Resistance (IR) 290
Esophageal Obstruction (Choke) 292
Excessive Maternal Behavior/Foal Stealing 294
Endocorditis, Infective 295
Exercise-Associated Arrhythmias 297
Exertional Rhabdomyolysis Syndrome 298
Exercise-Induced Pulmonary Hemorrhage 300
Expiratory Dyspnea 302
Exudative Optic Neuritis 304
Eyelid Diseases 306
Failure of Transfer of Passive Immunity (FTPI) 308
Fears and Phobias 310
Fell Pony Syndrome 313
Fescue Toxicosis 314
Fetal Stress/Distress/Viability 316
Fever 318
Flexural Limb Deformity 322
Fluid Therapy, Neonate 324
Fumonisins 326
Fungal Pneumonia 328
Fusaria 329
Gamma-Glutamyltransferase (GGT) 330
Gastric Dilation/Distention 332
Gastric Neoplasia 334
Gastric Ulcers and Erosions (Equine Gastric Ulcer Syndrome) 336
Gastric Ulcers, Neonate 338
Getah Virus Infection 340
Glanders 341
Glaucoma 342
Glucose Tolerance Test 344
Glucose 346
Glycogen Branching Enzyme Deficiency 348
Goiter 349
Granulomatous Enteritis 350
Grass Sickness 352
Guttural Pouch Empyema 354
Guttural Pouch Mycosis 356
Guttural Pouch Tympany 357
Head Trauma 358
Heaves (Recurrent Airway Obstruction) 360
Hemangiosarcoma 362
Hemorrhage, Acute 364
Hemorrhage, Chronic 366
Hemorrhagic Nasal Discharge 367
Hemospermia 368
Hendra Virus 369
Hepatic Abscess and Septic Cholangiohepatitis 370
Hepatic Encephalopathy 371
Hereditary Equine Regional Dermal Asthenia 372
Hernias (Umbilical and Inguinal) 373
Herpesvirus Myeloencephalopathy 374
Herpesvirus Types 1 and 4 376
Herpesvirus 3 378
High-Risk Pregnancy, Neonate 380
High-Risk Pregnancy 382
Hydrocephalus 384
Hydrops Allantois/Amnion 386
Hyperkalemic Periodic Paralysis 388
Hyperlipidemia/Hyperlipemia 390
Hyperthermia 392
Hypoxemia 394
Icterus (Prehepatic, Hepatic, and Posthepatic) 396
Idiopathic Colitis 398
Idiopathic Systemic Granulomatous Disease (Sarcoidosis) 400
Ileal Hypertrophy 401
Ileus 402
Immune-Mediated Keratitis 404
Immunoglobulin Deficiencies 405
Impaction 406
Infectious Anemia (EIA) 408
Infectious Arthritis (Nonhematogenous) 410
Inflammatory Airway Disease 412
Influenza 414
Insect Hypersensitivity 416
Inspiratory Dyspnea 418
Insulin Levels/Insulin Tolerance Test 420
Internal Abdominal Abscesses 422
Intestinal Absorption Tests 424
Intra-Abdominal Hemorrhage in Horses 426
Intracarotid Injection 428
Ionophore Toxicosis 430
Iris Prolapse 432
Iron Toxicosis 433
Ischemic Optic Neuropathy 434
Isocoma wrightii (Rayless Goldenrod) Toxicosis 435
Juglans nigra (Black Walnut) Toxicosis 436
Junctional Epidermolysis Bullosa 437
Laminitis 438
Lantana camara (Lantana) Toxicosis 441
Large Colon Torsion 442
Large Ovary Syndrome 444
Large Strongyle Infestation 447
Laryngeal Hemiparesis/Hemiplegia 448
Lavender Foal Syndrome 450
Lawsonia intracellularis Infections in Foals 451
Lead (Pb) Toxicosis 452
Lens Opacities/Cataracts 454
Leptospirosis 456
Lethal White Foal Syndrome 458
Leukocytoclastic Pastern Vasculitis 459
Leukoencephalomalacia 460
Linear Keratosis and Linear Alopecia 461
Locomotor Stereotypic Behaviors 462
Lungworm—Parasitic Bronchitis and Pneumonia 464
Lyme Disease 466
Lymphadenopathy 468
Lymphocytic–Plasmacytic Enterocolitis 469
Lymphocytosis 470
Lymphoid Hyperplasia (Pharyngitis) 472
Lymphopenia 473
Lymphosarcoma 474
Magnesium Disorders 476
Malabsorption 478
Malicious Intoxication 480
Mastitis 482
Maternal Foal Rejection 484
Mast Cell Tumor 485
Meconium Retention 486
Melanoma 487
Melena and Hematochezia 488
Mercury Toxicosis 489
Metacarpo- (Metatarso-)Phalangeal Joint Disease 490
Metaldehyde Toxicosis 491
Methemoglobinemia 492
Methylxanthine Toxicosis 494
Mitral Regurgitation 496
Monocytosis 498
Motor Neuron Disease 500
Multiple Endocrine Neoplasia 502
Multiple Myeloma 503
Multisystemic Eosinophilic Epitheliotropic Disease 504
Myeloproliferative Diseases 506
Myocardial Disease 508
Narcolepsy and Cataplexy 510
Navicular Syndrome 511
Neonatal Isoerythrolysis 512
Nerium oleander (Oleander) Toxicosis 514
Neutropenia 516
Neutrophilia 518
Nitrate/Nitrite Toxicosis 520
Nonulcerative Keratouveitis 521
Nutrition in Foals 522
Nutritional Secondary Hyperparathyroidism (NHP) 524
Ocular/Adnexal Squamous Cell Carcinoma 526
Ocular Examination 528
Ocular Problems in the Neonate 529
Omphalophlebitis 532
Optic Nerve Atrophy 534
Oral Neoplasia 536
Oral Sterotypic Behaviors 538
Oral Ulcers 540
Orbital Disease 542
Organophosphate and Carbamate Toxicosis 544
Osmolality, Hyperosmolality 546
Osteoarthritis 548
Osteochondrosis 550
Ovulation Failure 552
Pancreatic Disease 554
Pancytopenia 555
Panicum coloratum (Kleingrass) Toxicosis 556
Papillomatosis 557
Paraphimosis 558
Pastern Dermatitis 560
Patent Ductus Arteriosus 562
Patent Urachus 564
Pentachlorophenol (PCP) Toxicosis 565
Pemphigus Foliaceus 566
Penetrating Injuries to the Foot 567
Penile Lacerations 568
Penile Paralysis 569
Penile Vesicles, Erosions, and Tumors 570
Pericarditis 572
Perinatal Asphyxia Syndrome 574
Perineal Lacerations/Recto-Vaginal-Vestibular Fistulas 576
Periocular Sarcoid 578
Periodontal Disease 580
Peritonitis 582
Petechiae, Ecchymoses, and Hematomas 583
Pheochromocytoma 584
Phimosis 585
Phosphorus, Hyperphosphatemia 586
Phosphorus, Hypophosphatemia 588
Photic Headshaking 590
Photosensitization 592
Pica 594
Pigmenturia (Hematuria, Hemoglobinuria, and Myoglobinuria) 595
Placental Basics 598
Placental Insufficiency 599
Placentitis 600
Pleural Fluid Cytology 602
Pleuropneumonia 603
Pneumonia, Neonatal 604
Pneumothorax 606
Pneumovagina/Pneumouterus 607
Poisoning (Intoxication)–General Principles 608
Polycythemia 610
Polyneuritis Equi 612
Polysaccharide Storage Myopathy 613
Polyuria (PU) and Polydipsia (PD) 614
Postpartum Metritis 616
Potassium, Hyperkalemia 618
Potassium, Hypokalemia 619
Potomac Horse Fever (PHF) 620
Pregnancy Diagnosis 622
Premature Placental Separation 624
Prepubic Tendon Rupture 626
Priapism 628
Primary Hyperparathyroidism 629
Progressive Ethmoidal Hematoma 630
Proliferative Optic Neuropathy 631
Prolonged Diestrus 632
Prolonged Pregnancy 634
Protein, Hyperfibrinogenemia 636
Protein, Hyperproteinemia 638
Protein, Hypoproteinemia 640
Protein-Losing Enteropathy (PLE) 642
Protozoal Myeloencephalitis (EPM) 644
Ptyalism 646
Purpura Hemorrhagica 648
Purulent Nasal Discharge 650
Pyometra 652
Pyrrolizidine Alkaloid Toxicosis 654
Quercus spp. (Oak) Toxicosis 656
Rabies 657
Rectal Prolapse 658
Rectal Tear 660
Recumbent Horse 662
Recurrent Uveitis 664
Regurgitation/Vomiting/Dysphagia 666
Retained Deciduous Teeth 668
Retained Fetal Membranes 669
Rhodococcus equi 670
Rib Fractures in Foals 672
Right and Left Dorsal Displacement of the Colon 674
Right Dorsal Colitis 676
Robinia pseudoacacia (Black Locust) Toxicosis 678
Salmonellosis 680
Sand Impaction and Enteropathy 682
Sarcoid 684
Scrambling in Trailers 686
Seizure Disorders 688
Seizures in Foals 690
Selenium Intoxication 692
Self-Mutilation 693
Septic Arthritis, Neonatal 694
Septic Meningoencephalomyelitis 696
Septicemia, Neonatal 698
Severe Combined Immunodeficiency 700
Shivers (Shivering) 701
Sinusitis (Paranasal) 702
Slaframine Toxicosis 704
Small Strongyle Infestation 705
Small Intestinal Obstruction 706
Smoke Inhalation 708
Snake Envenomation 710
Sodium, Hypernatremia 712
Sodium, Hyponatremia 713
Solanum spp. (Nightshade) Toxicosis 714
Solar Abscess 715
Soluble Oxalate Toxicosis 716
Sorbitol Dehydrogenase (SDH)/Iditol Dehydrogenase (IDH) 718
Sorghum spp. Toxicosis 720
Spermatogenesis and Factors Affecting Sperm Production 722
Spider Envenomation 724
Splenomegaly 725
Stallion Sexual Behavior Problems 726
Staphylococcal Infections 728
Stationary Night Blindness 730
Streptococcus equi Infection 732
Stress Fractures 734
Summer Pasture–Associated Obstructive Pulmonary Disease 736
Superficial Nonhealing Ulcers with Anterior Stromal Sequestration 738
Supraventricular Arrhythmias 740
Suspensory Desmitis 742
Synchronous Diaphragmatic Flutter 743
Synovial Fluid 744
Temporohyoid Osteoarthropathy 746
Tendonitis 748
Tenesmus 750
Teratoma 751
Tetanus 752
Tetralogy of Fallot 754
Thoracic Trauma 756
Thrombocytopenia 758
Thrombocytosis 760
Thyroid Tumors 761
Toxic Hepatopathy 762
Trailer Loading/Unloading Problems 764
Training and Learning Problems 766
Tremorgenic Mycotoxin Toxicoses 769
Thyroid-Releasing Hormone (TRH) and Thyroid-Stimulating Hormone (TSH) Stimulation Tests 770
Tricuspid Regurgitation 772
Trifolium hybridium (Alsike Clover) Toxicosis 774
Tropane Alkaloids 775
Trypanosomiasis 776
Tuberculosis 777
Tumors of Respiratory System 778
Twin Pregnancy 780
Tyzzer's Disease (Clostridium piliformis) 782
Ulcerative Keratomycosis 784
Upward Fixation of the Patella 786
Urinalysis 788
Urinary Incontinence 790
Urinary Tract Infection (UTI) 792
Urine Pooling/Urovagina 794
Urolithiasis 796
Uroperitoneum, Neonatal 798
Urticaria 800
Uterine Inertia 802
Uterine Torsion 804
Vaccination Protocols 806
Vaginal Prolapse 808
Vaginitis and Vaginal Discharge 809
Ventricular Arrhythmias 810
Ventricular Septal Defect (VSD) 814
Verminous Meningoencephalomyelitis 816
Vesicular Stomatitis 817
Vicia villosa (Hairy Vetch) Toxicosis 818
Viral and Herpes Keratitis 819
Viral Arteritis 820
Vision 822
Vulvar Conformation 824
Weaning Separation Stress 826
West Nile Virus 828
White Muscle Disease 830
""The book is an excellent short consult or review.... The tables of contents are listed alphabetically as well as by systems, which makes it easy to rapidly locate basic information on a given subject.  I find this text to be valuable for locating relevant information quickly to provide a reminder of important aspects of disease. It should prove useful to veterinary students, but more so to veterinarians with a solid scientific background."" -
Journal of the American Veterinary Medical Association
, September 2009
""The editors have done an excellent job of revising this edition. This is a must-have book for the equine practice or the veterinary student."" - Veterinary Information Network


Easy, efficient access to reliable information for the busy equine practitioner

A concise, comprehensive resource for diagnosing and treating horses

Complete coverage of nearly 500 diseases and conditions, arranged alphabetically for quick searching

Topics contributed by 175 expert authors