Blade Servers and Virtualization: Transforming Enterprise Computing While Cutting Costs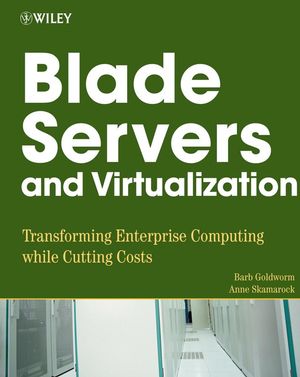 Blade Servers and Virtualization: Transforming Enterprise Computing While Cutting Costs
ISBN: 978-0-470-13955-4
May 2007
384 pages
Description
Blade server systems and virtualization are key building blocks for Next Generation Enterprise Data centers
Blades offer modular, pre-wired, ultra high-density servers (up to 10x traditional servers) with shared components (power, cooling, switches) – reducing complexity and cost, and improving flexibility, availability, manageability, and maintainability
Virtualization enables consolidation of physical servers by allowing many virtual servers to run concurrently on one physical server – improving system utilization, reducing the total number of physical servers, reducing costs, and increasing flexibility
This is the first book covering these complementary technologies and how, together, they provide a strong foundation for the future
It examines the history, architectures, features, examples, and user case studies of blade systems and virtualization, and offers guidance and considerations for how to evaluate and implement solutions
Acknowledgements.
Introduction.
Part I Technology Evolution.
Chapter 1 Blades and Virtualization — Building Blocks for Next-Generation Data Centers.
Chapter 2 Evolution of Computing Technology — Setting the Stage.
Chapter 3 Evolution of Blade and Virtualization Technologies.
Part II A Closer Look.
Chapter 4 Blade Architecture.
Chapter 5 PC Blades.
Chapter 6 Networking and Related Technologies.
Chapter 7 Blades and Storage.
Chapter 8 Virtualization.
Chapter 9 Clustering and Blades.
Chapter 10 Managing Blade Systems.
Chapter 11 Industry Organizations and Related Standards.
Part III Hardware, Facilities, and Software Considerations.
Chapter 12 Assessing Your Needs — Blade System Hardware Considerations.
Chapter 13 Power and Cooling.
Chapter 14 System Software Considerations.
Part IV Solutions.
Chapter 15 Differentiating and Selecting Products.
Chapter 16 Key Vendor and Product Analysis.
Chapter 17 Case Studies.
Chapter 18 A Look into the Future.
Appendix A Vendor and Product Information.
Appendix B Standards and Specifications.
Glossary.
Bibliography.
Index.