Blog Design For Dummies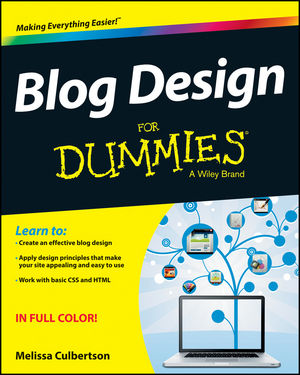 Blog Design For Dummies
ISBN: 978-1-118-55478-4 June 2013 352 Pages
Description
The average blogger does not typically have experience with design or coding, but that shouldn't deter them from having a professional-looking blog design. This friendly and easy-to-understand guide provides you with the tools you need to establish a creative, unique, and aesthetically memorable blog without having to learn how to code beyond some basic CSS. Whether you're looking to write for a major brand, become a brand ambassador, sell a product, acquire new clients, advocate for a cause, or simply tell a story, you'll find design tricks, helpful techniques, and invaluable advice for creating a great-looking and functional blog.
Provides the tools you need to understand what makes a successful blog from a design standpoint
Teaches you CSS coding that can be used to create an effective blog design that gets noticed
Helps you make design decisions regarding colors, fonts, and imagery
Places special emphasis on providing your readers with a site that is easy to use thanks to smart navigation
Blog Design For Dummies empowers you to make smart and creative adjustments to your blog so that you can be the proud owner of an effective blog design that gets noticed!
Introduction 1
Part I: Getting Started with Blog Design 5
Chapter 1: Recognizing Components of a Well-Designed Blog 7
Chapter 2: Applying Core Design Principles 23
Chapter 3: Getting to Know Your Blog (Even Better) 35
Chapter 4: Establishing a Style Guide 47
Part II: Choosing the Visual Design Elements 59
Chapter 5: Gathering Design Ideas 61
Chapter 6: Selecting Fonts and Colors 83
Chapter 7: Developing Your Overall Blog Layout 105
Chapter 8: Customizing Your Header, Footer, and Background 131
Chapter 9: Customizing the Design with Coding Basics 155
Part III: Designing for Easy Navigation and Interactivity 171
Chapter 10: Navigation and SEO Basics 173
Chapter 11: Laying Out Your Navigation Menu and Sidebars 191
Chapter 12: Making Content Easy to Find 215
Chapter 13: Increasing Ability to Share and Interact 227
Part IV: Creating Design-Friendly Content 243
Chapter 14: Designing Main Pages of Content 245
Chapter 15: Working with Images 265
Chapter 16: Incorporating Design into Your Blog Posts 291
Part V: The Part of Tens 299
Chapter 17: Ten Places to Extend Your Blog's Design 301
Chapter 18: Ten Well-Designed Blogs 311
Index 323
Updates
Please check back here for updates.