Blog Theory: Feedback and Capture in the Circuits of Drive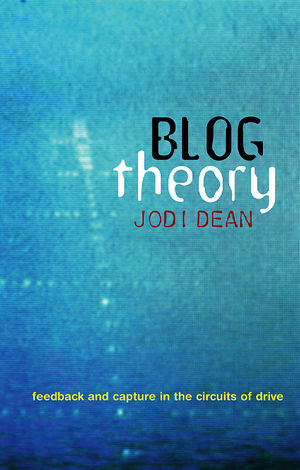 Blog Theory: Feedback and Capture in the Circuits of Drive
ISBN: 978-0-745-65955-8 April 2013 Polity 140 Pages
Download Product Flyer
Download Product Flyer
Download Product Flyer is to download PDF in new tab. This is a dummy description. Download Product Flyer is to download PDF in new tab. This is a dummy description. Download Product Flyer is to download PDF in new tab. This is a dummy description. Download Product Flyer is to download PDF in new tab. This is a dummy description.
Description
Blog Theory offers a critical theory of contemporary media. Furthering her account of communicative capitalism, Jodi Dean explores the ways new media practices like blogging and texting capture their users in intensive networks of enjoyment, production, and surveillance. Her wide-ranging and theoretically rich analysis extends from her personal experiences as a blogger, through media histories, to newly emerging social network platforms and applications.

Set against the background of the economic crisis wrought by neoliberalism, the book engages with recent work in contemporary media theory as well as with thinkers such as Giorgio Agamben, Jean Baudrillard, Guy Debord, Jacques Lacan, and Slavoj ?i?ek. Through these engagements, Dean defends the provocative thesis that reflexivity in complex networks is best understood via the psychoanalytic notion of the drives. She contends, moreover, that reading networks in terms of the drives enables us to grasp their real, human dimension, that is, the feelings and affects that embed us in the system.

In remarkably clear and lucid prose, Dean links seemingly trivial and transitory updates from the new mass culture of the internet to more fundamental changes in subjectivity and politics. Everyday communicative exchangesÑfrom blog posts to text messagesÑhave widespread effects, effects that not only undermine capacities for democracy but also entrap us in circuits of domination.
Table of contents
Acknowledgements vi
1 Blog Settings 1
2 The Death of Blogging 33
3 Whatever Blogging 61
4 Affective Networks 91
Notes 127
Index 144
Reviews
"Dean is asking the right questions about online life … We certainly need vigilance and critique to help us resist dotcom charisma, and no one is fiercer or smarter than Dean on this front."
LA Review of Books

"Jodi Dean's Blog Theory takes as its proximate subject the eponymous blog—and its living death … what is offered is both simple and, oddly enough, also hopeful."
Year's Work in Critical and Cultural Theory

"If Ballard invited the 20th century viewer to witness their own mass atrocity exhibition, we now have the update for the 21st century: Jodi Dean's demolition job of the Internet as we know it. With Blog Theory we can finally terminate the hype of blogging and seriously engage the deeply distracted condition of the networked present. The incestuous relationship between journalism and bloggers is exposed to make way for critical reflections on techniques of self-management for our all-too-fragile identities."
Geert Lovink
"Blog Theory is refreshingly free of received ideas about the wonderful new world of media. Jodi Dean manages the difficult art of being critical of new media without becoming a cranky curmudgeon. She uses psychoanalytic concepts to produce a synoptic view of the decline of symbolic efficiency under communicative capitalism, and the way the blogosphere participates in this dissipation of the totems and tokens of what we once thought of as the public sphere. She clears the way for imagining the politics of media by other means."
McKenzie Wark, New School University
Features
A leading media theorist engages with the world of blogs and social networking sites.
Jodi Dean is well known for her work on media theory and what she calls 'communicative capitalism'.
The book is a highly original reflection on the way we communicate and think in new media like blogs, Twitter and Facebook.
This should appeal to students interested in new media. It is cutting-edge theory in the field of new media.