Bloomberg by Bloomberg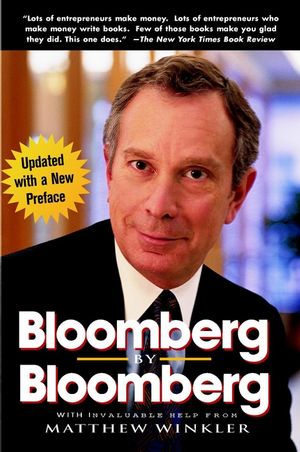 Bloomberg by Bloomberg
ISBN: 978-0-471-20888-4
Aug 2001
280 pages
Description
The remarkable story of how Michael Bloomberg created a media empire
""Lots of entrepreneurs make money. Lots of entrepreneurs who make money write books. Few of those books make you glad they did. This one does.""
—The New York Times Book Review
""A classic tale of a nimble, customer-focused, entrepreneurial David outsmarting bureaucratic, ossified, corporate Goliaths.""
—Business Week
""Entertaining, engaging, and informative, Bloomberg by Bloomberg is packed with great advice about how to start a lean, hungry company-and how to keep it that way.""
—Bryan Burrough, coauthor, Barbarians at the Gate
Brash, aggressive, and supremely self-confident, Michael Bloomberg, the visionary leader of the world's fastest-growing media empire, has been hailed as the new standard for what it takes to win in the Information Age. Dismissed from Salomon Brothers in 1981, Bloomberg immediately took his money and acerbic personality and started Bloomberg L.P. Bolstered by a $30 million investment from Merrill Lynch, the company and the man have been sprinting ahead of the pack ever since. Only twenty years after founding, he's at the top of his industry. And on June 5, 2001, he added mayoral candidate for New York City to his list of accomplishments and aspirations. If elected, powerhouse Michael Bloomberg will bring his own brand of leadership-and personal style-to the city that never sleeps.
The Last Supper: The Thrill of Getting Fired: Tarrytown 1981.

Capitalism, Here I Come: School, Work, and Hard Knocks.

I Love Mondays: Entrepreneurship: Vocation and Avocation.

We Can Do That: Elementary Journalism, Not Rocket Science.

""No"" Is No Answer: Establishment Ignorance and Arrogance.

Money Talks: Textbook Multimedia.

Computers for Virgins: Technology: Politics and Promises.

Management 101: The Bloomberg Way.

Coming Up Next: America's a Wonderful Country.

Out of the Office: Character and Consistency.

Wealth, Wisdom, and Work: Philanthropy and Public Service.

Afterword.

Index.