Blueprint to a Billion: 7 Essentials to Achieve Exponential Growth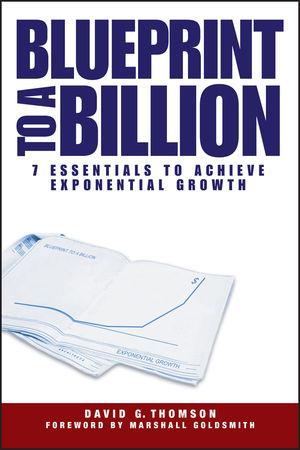 Blueprint to a Billion: 7 Essentials to Achieve Exponential Growth
ISBN: 978-1-118-04064-5
Dec 2010
288 pages
Description
Praise for BLUEPRINT TO A BILLION
"A wonderful, well thought out analysis of entrepreneurship and leadership of a growth company."
—Howard Lester, Chairman, Williams-Sonoma, Inc.
"If you dream about growing your business to a billion, this is a fascinating down-to-earth study that you must read. Apply the seven essential principles to your business and you are off and running. Learn about strategy, growth, leadership, team building, and a whole lot more."
—Joe Scarlett, Chairman of the Board, Tractor Supply Company
"Blueprint to a Billion is a well-researched and thoughtfully written book that quantifies the growth pattern of America's highest growth companies."
—Professor John Quelch, Senior Associate Dean, Harvard Business School
"Eighty percent of the top-performing stocks in the last twenty years were small entrepreneurial companies that had an IPO in the prior eight years. Blueprint to a Billion tells you the seven key things these innovators did in common to become America's greatest growth companies."
—William J. O'Neil, Chairman and Founder Investor's Business Daily, www.investors.com
"Thomson has written a masterful work that will catalyze, empower, inspire, motivate, and illuminate entrepreneurs, investors, and policymakers. The world needs this book and will profit from it in manifold ways."
—David M. Darst, Managing Director, Individual Investor Group Chief Investment Strategist, Morgan Stanley
Foreword.
Preface.
Acknowledgments.
1. The Blueprint Thesis: A Different Approach to Growth.
Part One: Create and Sustain a Breakthrough Value Proposition.
2. The Blueprint Value Proposition.
Part Two: Create and Sustain Exponential Revenue Growth.
3. Exploit a High-Growth Market Segment.
4. Marquee Customers Shape the Revenue Powerhouse.
5. Leverage Big Brother Alliances for Breaking into New Markets.
Part Three: Seizing the Opportunity to Create Exponential Returns.
6. Becoming the Masters of Exponential Returns.
7. The Management Team: Inside-Outside Leadership.
8. The Board: Comprised of Essentials Experts.
9. Linking the 7 Essentials.
10. Blueprint Companies for the Next Decade and Your Part in Them: An Epilogue.
Appendix A: Top 100 Blueprint Companies.
Appendix B: Delivering Breakthrough Benefits Drives Exponential Growth.
Appendix C: Assessing Management's Focus, Drive, and Ability.
Appendix D: Methodology.
Endnotes.
Index.
INNOVATIVE APPROACH TO QUANTIFYING GROWTH PATTERNS.  Thomson fills a hole in new thinking about learning from companies and applying their success for managers, entrepreneurs, and investors by laying out fact-based findings so that they are actionable. 
BASED ON YEARS OF RESEARCH. Thomson has identified the P&L and management patterns of companies who have IPO'd since 1980 and have achieved $1B in revenue.  He offers readers a plan on realizing growth based on the research, success, and excellence of tracking the success of these "Blueprint" companies.
INTERACTIVE WEBSITE.  The book will have links in each chapter for readers to interact with a companion website where they'll find case studies, interviews, financial data, and a current list of potential Blueprint companies to track.