Blues Guitar For Dummies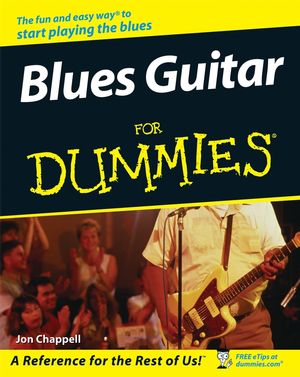 Blues Guitar For Dummies
ISBN: 978-0-470-04920-4
Dec 2006
384 pages
Description
Do you wish you could play your favorite blues music on guitar? Even if you don't read music, it's not difficult with Blues Guitar for Dummies. With this hands-on guide, you'll pick up the fundamentals instantly and start jamming like your favorite blues artists!

Blues Guitar for Dummies covers all aspects of blues guitar, showing you how to play scales, chords, progressions, riffs, solos, and more! It's packed with musical examples, chords charts, and photos that let you explore the genre and play the songs of the great blues musicians. This accessible guide will give you the skills you need to:
Choose the right guitar, equipment, and strings
Hold, tune, and get situated with your guitar
Play barre chords and strum to the rhythm
Recognize the structure of a blues song
Tackle musical riffs
Master melodies and solos
Make your guitar sing, cry, and wail
Jam to any type of blues
In addition to this must-have book, a bonus CD is included so that you can listen to famous songs, practice your riffs and chords, and develop your style as a blues musician. It also features a quick guide to musical notation and suggestions on albums, artists, and guitars for further enjoyment. With Blues Guitar for Dummies, you can re-create the masterpieces of the blues legend without the expensive lessons!
Introduction.
Part I: You Got a Right to Play the Blues.
Chapter 1: Every Day I Have the Blues . . . Hallelujah!
Chapter 2: Blues Meets Guitar: A Match Made in Musical Heaven.
Chapter 3: Grab Hold, Tune Up, Play On!
Part II: Setting Up to Play the Blues.
Chapter 4: Getting a Grip on Left-Hand Chords.
Chapter 5: Positioning the Right Hand for Rhythm and Lead.
Chapter 6: Blues Progressions, Song Forms, and Moves.
Chapter 7: Musical Riffs: Bedrock of the Blues.
Part III: Beyond the Basics: Playing Like a Pro.
Chapter 8: Playing Lead: Soaring Melodies and Searing Solos.
Chapter 9: Playing Up the Neck.
Chapter 10: Express Yourself: Making the Guitar Sing, Cry, and Wail.
Part IV: Sounding Like the Masters: Blues Styles through the Ages.
Chapter 11: Acoustic Roots: Delta Blues and Its Country Cousins.
Chapter 12: The Birth and Growth of Classic Electric Blues.
Chapter 13: Blues Rock: The Infusion of Ol' Rock 'n' Roll.
Part V: Gearing Up: Outfitting Your Arsenal.
Chapter 14: Shop Till You Drop: Buying the Right Guitar for You.
Chapter 15: Choosing Your Amp and Effects.
Chapter 16: Changing Strings.
Part VI: The Part of Tens.
Chapter 17: Ten Blues Guitar Giants.
Chapter 18: Ten Great Blues Guitars.
Chapter 19: Ten (Plus One) Must-Have Blues Guitar Albums.
Part VII: Appendixes.
Appendix A: How to Read Music.
Appendix B: How to Use the CD.
Index.