Board Work: Governing Health Care Organizations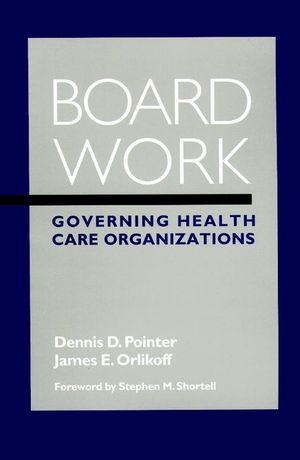 Board Work: Governing Health Care Organizations
ISBN: 978-0-787-94299-1 May 1999 Jossey-Bass 320 Pages
Description
American College of Healthcare Executives 2000 James A. Hamilton book of the year award
Written by Dennis Pointer and James Orlikoff, two of the most experienced and highly regarded governance consultants in the country, Board Work presents a practical model focusing on those factors that most affect board performance. Rich with prescriptive information, practical ideas, assessment tools, and examples, Pointer and Orlikoff provide the expert coaching boards need to do their best work and add value to their organizations.
Based on the authors' forty years of combined experience, this eye-opening book arms boards with tools and techniques to significantly enhance their performance and contributions. Pointer and Orlikoff forward concrete recommendations for implementing benchmark governance systems and practices, creating the essential guide for those who want to make a real difference on behalf of communities they serve.
"This is the best book on health care organization governance I have ever read."
--Stephen Shortell, Blue Cross of California Distinguished Professor of Health Policy and Management, University of California, Berkeley
Welcome to the Board Why Governance? Governance for Whom? Governance Checkup Benchmark Governance Practices.

The New Game of Governance Two Faces of Change The Revolution in Health Care Governance Checkup Benchmark Governance Practices.

Governance Performance and Contributions.

Governance Responsibilities Ends Management Performance Quality of Care Finances Self Benchmark Governance Practices.

Governance Functioning Policy Formulation Decision Making Oversight Benchmark Governance Practices Essence of the Verb "to Govern".

Governance Structure Issues in System Governance Structure Board Size Committee Structure Principles of Effective Structure Governance Checkup Benchmark Governance Practices.

Governance Composition Casting Basics Composition Models Term Limits Removing a Board Member Ex Officio Members Community Representation Governance Checkup Benchmark Governance Practices.

Governance Infrastructure The Effective Governance Pyramid Annual Board Goals and Objectives Annual Board Work Plans Board AgAnda Control Board Information Control Evaluation Vision Related Governance Issues Governance Checkup Benchmark Governance Practices.

Board Membership Checkup Thirty-Eight (Really) Great Ideas for Becoming a Better Board Person.

Transforming Governance How Does Your Board Rate? The Governance Performance Map The Transformation Process The Last Word.

Appendix A: A Profile of Health System and Hospital Governance.

Appendix B: Illustrative Board Policies.

Appendix C: Illustrative Committee Charters.

Appendix D: Governance Resources.

References and Bibliography.

Index.
"This is the best book on health care organization governance I have ever read." --Stephen M. Shortell, Blue Cross of California Distinguished Professor of Health Policy and Management, University of California, Berkeley

"The strategic edge, effective governance . . . Pointer and Orlikoff have written a book that is a 'must read' for those managing and governing in today's complex health care environment." --David L. Bernd, CEO, Sentara Health System

"The partnership of Pointer and Orlikoff, with their vast experience, skills, and leadership, makes this the guide for health care governance-now and into the foreseeable future." --Roy Schwarz, Jr., chair, board of trustees; Carolyn C. Roberts, president and CEO, Copley Hospital, Inc.

"Written by two of the most experienced and highly regarded health care governance consultants in the country, Board Work is noteworthy in its ability to challenge old assumptions about governance and serves as an excellent road map for enhancing your board's capabilities." --J. K. Pearlman, board chair; Mark R. Neaman, president and CEO, Evanston Northwestern Healthcare

"Hard-hitting and directly to the heart of the issue, Board Work is a must for those trustees who want their organizations to survive in the rapidly changing world of health care." --E. George Middleton, Jr., board chair, Sentara Health System