Boardroom Realities: Building Leaders Across Your Board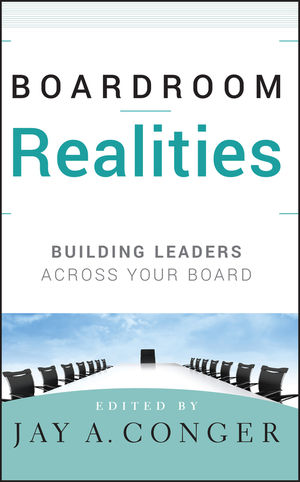 Boardroom Realities: Building Leaders Across Your Board
ISBN: 978-0-470-44260-9 March 2009 Jossey-Bass 544 Pages
Description
Praise for Boardroom Realities
"Authored by a 'who's who' roster of governance experts, Boardroom Realities covers the latest trends in board leadership and performance as well as talent management for the board and the C-suite—all critical topics for any director serious about board service today."
—Kenneth Daly, president and CEO, National Association of Corporate Directors
"If leadership and effectiveness in the boardroom were important in a more benign environment, they're absolutely vital in today's tumultuous times. Boardroom Realities provides a modern and detailed road map to help steer chairmen, CEOs, and boards through these uncharted governance waters."
—Peter Weinberg, partner, Perella Weinberg Partners
"Jay Conger's Boardroom Realities offers a unique perspective on governance through leadership, rather than compliance, and should compel all directors to revisit the focus of board deliberations, especially at this time of unprecedented economic and financial turmoil."
—Alison A. Winter, cofounder, WomenCorporateDirectors, and a corporate director for Nordstrom, Inc.
"Boardroom Realities is a very comprehensive compilation of useful insights on key issues that boards must deal with every day. It's an excellent resource for board members as well as members of management who must work together to ensure good governance on behalf of shareholders."
—Ronald D. Sugar, chairman of the board and CEO, Northrop Grumman Corporation
"Jay Conger has collected critical insights and the latest thinking on board leadership from many of today's foremost governance thinkers. Boardroom Realities is a must for your board and for any comprehensive corporate governance library."
—Ralph D. Ward, publisher, Boardroom INSIDER, and author, The New Boardroom Leaders
Table of contents
About the Authors.
Introduction: Leveraging Your Board's Leadership Capability (Jay A. Conger).
PART ONE: LEADERSHIP IN YOUR BOARDROOM.
1. Leadership: The Key to Effective Boards (Jay W. Lorsch).
2. Why Your Board Needs a Non-Executive Chair (Jay A. Conger and Edward E. Lawler III).
3. The Joint CEO/Chairperson Leadership Issue in Sharp Relief (Dan R. Dalton and Catherine M. Dalton).
4. First Among Equals: Leading Your Fellow Directors as a Board Chair (Katharina Pick).
PART TWO: TALENT MANAGEMENT PRACTICES FOR YOUR BOARD.
5. Appraising Your Board's Performance (Jay A. Conger and Edward E. Lawler III).
6. Getting the Right Directors on Your Board (Richard Leblanc).
7. Women Directors in the Boardroom: Adding Value, Making a Difference (Sarah Smith Orr).
8. Your Board's Crucial Role in Aligning CEO Pay and Performance (Roger W. Raber).
PART THREE: CEO SUCCESSION: THE CHALLENGES AND OPPORTUNITIES FACING YOUR BOARD.
9. Managing the CEO's Succession: The Challenge Facing Your Board (Joseph L. Bower).
10. Beyond Best Practices: Revisiting the Board's Role in CEO Succession (Mark B. Nadler).
11. Ending the CEO Succession Crisis (Ram Charan).
PART FOUR: IMPROVING YOUR BOARD'S PERFORMANCE AND IMPACT.
12. How Your Board Can Leverage Team Practices for Better Performance (Elise Walton).
13. What Your Board Needs to Know: Early Warning Signs That Provide Insight to What Is Really Going on in Companies (Sydney Finkelstein).
14. Globalizing the Company Board: Lessons from China's Lenovo (Michael Useem and Neng Liang).
PART FIVE: CONCLUSION.
15. Conventional Wisdom, Conventional Mythology, and the True Character of Board Governance (Jeffrey A. Sonnenfeld and Andrew Ward).
Notes.
Index.