Boards That Love Fundraising: A How-to Guide for Your Board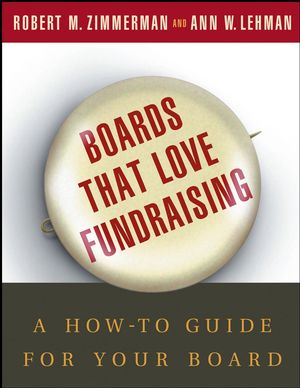 Boards That Love Fundraising: A How-to Guide for Your Board
ISBN: 978-0-787-97378-0 March 2004 Jossey-Bass 128 Pages
Description
Written by Robert Zimmerman and Ann Lehman--leading experts in the field of fundraising and board development--
Boards That Love Fundraising
not only shows that
all
board members (no matter the level of experience) can learn to raise funds but also provides effective tips to the more experienced fundraisers. This workbook explains your fundraising responsibility as a board member while it:
Provides information on board structure and its impact on raising money
Outlines the concepts that will empower you to ask for money effectively and fearlessly
Describes the wide variety of methods nonprofits use to raise money and  the board's role in each area
Shows how to recruit board members who can help with fundraising
Explores the vital issues of fundraising, planning, staffing, evaluation, and working with consultants
"The book provides tips to help board members overcome the fear of rejection and feel more comfortable asking for support."
-- The Chronicle of Philanthropy, May 27, 2004
[The authors exploration of] " ..topics such as how to ask for a substantial gift and motivations for giving are especially effective."
-- September 22, 2004, The Foundation Center, Philanthropy News Digest
Table of contents
About the Authors.
Introduction.
1. What Every Board Member Needs to Know to Start Fundraising.
The Five Responsibilities of a Nonprofit Board.
Specific Board Fundraising Responsibilities.
A Healthy Board.
Advisory Boards.
Campaigns.
2. Fundraising Rules Underlying Successful Appeals.
Programming Determines Funding.
Getting People to Ask.
People Love to Give Away Money.
People Give Money to People.
Fundraising from the Perspective of the Donor, Not the Applicant.
People Give to Strength, Not Crisis.
Specificity is Next to Godliness.
Successful Fundraising Depends on Careful Record Keeping.
Ten Percent of the People Give 90 Percent of the Money.
Donors' Gifts Must Be Recognized Immediately.
Good Fundraising is Opportunistic.
3. The Board's Role in Specific Fundraising Activities.
Individual Contributions.
Contributions from Businesses.
Grants.
4. Effective Board Recruitment.
Whom to Recruit.
How to Recruit.
5. Primed for Fundraising.
Creating a Development Plan.
What the Board Needs to Understand About Fundraising Staff.
What Development Staff Can and Cannot Do.
Specific Fundraising Roles.
Fundraising Costs.
Working with Consultants.
Evaluating Your Fundraising Effort.
Conclusion.
Resource A: Major Donor Solicitation: Asking for the Gift.
Resource B: Major Donor Solicitation Scripts.
Index.
Reviews
"There are many fine books on fundraising, but few delineate the board member's role with such clarity." (
Stage Directions
, 12/1/2004)
"The book is a user-friendly soft-cover workbook providing information on how to more effectively raise money." (Contra Costa Times, 4/2/2004)