Bodies of Evidence: Reconstructing History through Skeletal Analysis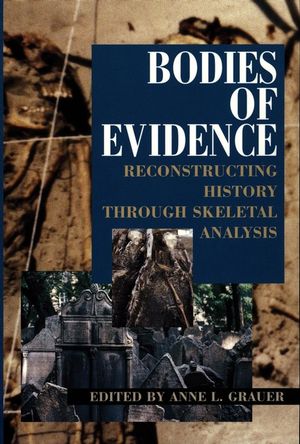 Bodies of Evidence: Reconstructing History through Skeletal Analysis
ISBN: 978-0-471-04279-2
Apr 1995
256 pages
Description
A group of contributors highlight advances made in paleopathology and demography through the analyses of historic cemeteries. These advancements include associations of documentary evidence with skeletal evaluations, insights into history gained through the use of skeletal analyses when no documentation exists and applications of new evaluative techniques. Provides a glimpse into the problems faced by researchers embarking on the excavation and/or analysis of historic human remains.
Partial table of contents:

ISSUES AND CONSIDERATIONS.

Politics, Law, Pragmatics, and Human Burial Excavations: An Example from Northern California (L. Goldstein).

Historic Cemetery Analysis: Practical Considerations (D. Ubelaker).

THE ASSESSMENT OF DEMOGRAPHIC PATTERNS.

A Piece of Chicago's Past: Exploring Subadult Mortality in the Dunning Poorhouse Cemetery (A. Grauer & E. McNamara).

Bones in the Basement: Bioarchaeology of Historic Remains in Nonmortuary Contexts (J. Harrington & R. Blakely).

RECONSTRUCTING PATTERNS OF HEALTH AND DISEASE.

Cross Homestead: Life and Death on the Midwestern Frontier (C. Larsen, et al.).

Dental Pathologies Among Inmates of the Monroe County Poorhouse (R. Sutter).

Nitrogen Isotope Evidence for Weaning Age in a Nineteenth Century Canadian Skeletal Sample (M. Katzenberg & S. Pfeiffer).

Index.