Body Language: Advanced 3D Character Rigging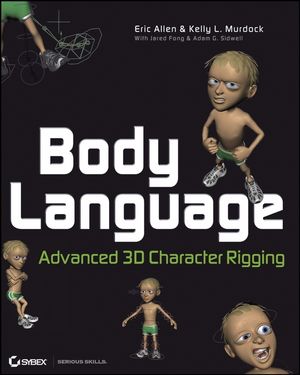 Description
Whether you're a professional Character TD or just like to create 3D characters, this detailed guide reveals the techniques you need to create sophisticated 3D character rigs that range from basic to breathtaking. Packed with step-by-step instructions and full-color illustrations, Body Language walks you through rigging techniques for all the body parts to help you create realistic and believable movements in every character you design. You'll learn advanced rigging concepts that involve MEL scripting and advanced deformation techniques and even how to set up a character pipeline.
Introduction.
Chapter 1 The Vehicle to Get You There: Applications and Approaches.
Chapter 2 Getting to Know You: Maya's Interface.
Chapter 3 Rigging That's Right: Rigging Concepts You Need to Know.
Chapter 4 Torso Rigging Techniques.
Chapter 5 Creating Contrapposto: Perfecting Pelvis Rigging.
Chapter 6 Arms of Mass Deformation: Real and Unreal Arm Creation.
Chapter 7 Getting a Leg Up on the Competition: Understanding Legs and Feet.
Chapter 8 Hands That Grab Your Attention: Hand Rigging Techniques.
Chapter 9 A Head above the Rest: Controlling the Head and Neck.
Chapter 10 What Are You Looking At? Realistic Eyes.
Chapter 11 Show Your Teeth: Creating the Mouth and Jaw.
Chapter 12 Can't You See What I'm Saying? Logical Viseme Creation
Chapter 13 Control That Face of Yours:Working with Expressions and Facial User Interfaces.
Chapter 14 Deforming and Organizing Your Rig.
Chapter 15 Mel Scripting: An Introduction.
Chapter 16 UV Mapping and UVLayout.
Chapter 17 Maya Muscle.
Chapter 18 The Skinny on Skinning: Effective Surface Attachment.
Chapter 19 Implementing a Character Pipeline: Pipeline in a Box.
Appendix About the Companion CD.
Index.
Chapter
Page
Details
Date
Print Run
4
63
Incorrect image used in Fig. 4.15
The image used for Figure 4.15 shows nodes that are not included until one of the next steps in creating the spine setup. The PlusMinusAverage nodes that have "+-A" on them should not be in the image. These are added into the setup on page 68.

Change the caption to read "The stretchy spine switch in the Hypershade with PlusMinusAverage nodes which we will add in the next tutorial"
11/14/08

---