Bodyshop: The Photoshop Retouching Guide for the Face and Body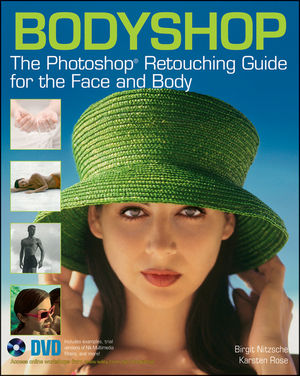 Bodyshop: The Photoshop Retouching Guide for the Face and Body
ISBN: 978-1-118-08190-7 April 2011 480 Pages
Description
The book Photoshop users need to get bodies into shape.
This full-color book will show how both the newest and previous versions of Photoshop can be used to retouch and enhance the entire human form.
From body contouring to changing hairstyles to adding makeup and fixing nails, this book will be a must-have reference for anyone who uses Photoshop to fix people pictures.
The companion DVD includes before-and-after views of all pictures from the book, additional setting files for individual workshops, and trial versions of several Nik Multimedia filters.
Retouching Tutorials.
Chapter 1: Body contours.
Slim legs against plain background.
Reduce buttocks and create symmetry.
Change body size.
Reduce belly.
Achieve perfect leg contours.
Slimmer legs against detailed background.
Replace missing body parts.
Improve posture.
Body modulation.
Stretch legs.
Change body shape with light and shadow.
Style upper body.
Refine upper body contours.
Paint with light and emphasize contours.
Basic Overview: Workflow.
Chapter 2: Facial contours.
Change facial proportions.
Change head shape and create symmetry.
Reduce laugh lines.
Remove double chin.
Refine nose and chin contours.
Create witch nose.
Reduce nose.
Apply lens correction.
Basic Overview: Layers.
Chapter 3: Eyes.
Emphasize eyes with make-up effects.
Open blinkingeyes.
Adapt eye size and hooded eyelid.
Sharpen in case of shallow depth of field.
Neutralize and brighten whites of eyes.
Sharpen in case of motion blur.
Remove reflections for glasses.
Make eyes look clear.
Remove red eye.
Basic Overview: Paths.
Chapter 4: Mouth.
Apply Lip gloss.
Full lips.
Mouth correction.
Smile, please!
Correct teeth.
Emphasize lips.
Basic Overview: Blend modes.
Chapter 5: Skin.
Improve skin texture and skin tone.
Porcelain skin.
Correct color cast on skin
Brighten and smooth skin indentations.
Reduce skin glare.
Even skin tone.
Adapt tone and decolorize skin.
Tint skin.
Various blur effects using channels and filters.
Reduce overexposure.
Blur skin and increase contrast.
White skin.
Adapt skin contrast.
Rejuvenate man.
Basic Overview: Special layer techniques.
Chapter 6: Hair.
Isolate hair from uniform background.
Isolate model from structured background for composition.
Bring out hair texture.
Remove hair clips.
Color hair.
Remove three-day stubble.
Change hairstyle.
Basic Overview: Sharpening.
Chapter 7: Hands and feet.
Change foot contours.
Emphasize age.
Expressive hands.
Get fingernails into shape.
Beautiful hands in a few quick steps.
Basic Overview: Paths.
Online Workshops.
Index.