Bonds: The Unbeaten Path to Secure Investment Growth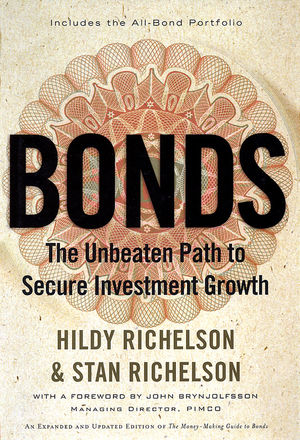 Bonds: The Unbeaten Path to Secure Investment Growth
ISBN: 978-0-470-88517-8
May 2010
387 pages
Description
In Bonds: The Unbeaten Path to Secure Investment Growth, Hildy and Stan Richelson expose the myth of stocks' superior investment returns and propose an all-bond portfolio as a sure-footed strategy that can ensure results. The book is designed to educate novice and sophisticated investors alike and serve as a tool for financial advisers as well. It explains why bonds can be the right choice and how to use them to achieve financial goals. It presents a broad spectrum of bond-investment options, describes how to purchase bonds at the best prices, and most important, shows how to make money with bonds.

The bond strategies presented in this book are used by the wealthiest investors and financial advisers to maximize the return on their portfolios while providing security of principal. These strategies can help you determine how to use bonds in your portfolio and take control of your financial destiny. You'll be playing it smart while playing it safe. 

Silver Medal Winner, Axiom Business Book Awards (2008)

Silver Medal Winner, Independent Publishers Book Award (IPPYs) (2008)

Silver Medal Winner, Advertising/Marketing/PR/Event Planning Category, Axiom Business Book Awards (2008)
Foreword.
Preface.
Acknowledgments.
Introduction.
Part 1:  Clearing the Cobwebs.
1 Bonds: The Better Investment.
2 The All-Bond Portfolio.
3 Adopting the All-Bond Portfolio: A Case Study.

Part 2:  Bond Basics.
4 The Evolution of a Bond: From a Verbal IOU to Electronic Entry.
5 The Life of a Bond: How It's Created, Issued, Priced, and Traded.

Part 3:  Bond Categories.
6 U.S. Treasury Securities.
7 U.S. Savings Bonds.
8 U.S. Agency Debt.
9 U.S. Agency and Other Mortgage-Backed Securities.
10 Municipal Bonds.
11 Corporate Bonds.
12 Bond Look-Alikes.

Part 4: Options for Purchasing Bonds.
13 How to Buy Individual Bonds: A Tool Kit.
14 Bond Funds: The Good, the Bad, and the Worst.
15 Bonds Funds: A Taxing Matter.
16 Choosing a Bond Fund.

Part 5:  Bond Investment Strategies.
17 Investment Planning With Bonds: How to Design Your Bond Portfolio.
18 Financial Planning With Bonds.
19 Maximizing Profits:  How to Make the Most Money From Bonds.
Appendix: Useful Web Sites.
Index.
"Diehards will love the book's all-bond portfolios...With more fixed-income products around than ever before, advisors should understand both what they are and how to use them. Bonds will serve as an excellent primer."
 -Financial Planning magazine