Bookkeeping For Dummies, 2nd Edition, UK Edition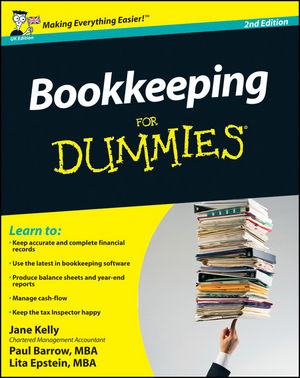 Bookkeeping For Dummies, 2nd Edition, UK Edition
ISBN: 978-0-470-97732-3
Mar 2011
376 pages
Product not available for purchase
Description
The easiest way to master the art of bookkeeping.
Accurate bookkeeping is crucial to every business - but few people relish the task. This straight-talking guide simplifies every aspect of financial record keeping, walking you through all the basic skills you need. From tracking transactions and keeping ledgers to producing balance sheets and year-end reports, this book makes bookkeeping your best friend in business.
Introduction.
Part I: Basic Bookkeeping: Why You Need It.
Chapter 1: So You Want to Do the Books.
Chapter 2: Getting Down to Bookkeeping Basics.
Chapter 3: Outlining Your Financial Roadmap with a Chart of Accounts.
Chapter 4: Looking at Ledgers.
Part II: Keeping a Paper Trail.
Chapter 5: Keeping Journals.
Chapter 6: Surveying Computer Options.
Chapter 7: Controlling Your Books, Your Records and Your Money.
Part III: Recording Day-to-Day Business Operations.
Chapter 8: Planning your Workload.
Chapter 9: Buying and Tracking Your Purchases.
Chapter 10: Counting Your Sales.
Chapter 11: Employee Payroll and Benefits.
Part IV: Preparing the Books for Year- (Or Month-) End.
Chapter 12: Depreciating Your Assets.
Chapter 13: Paying and Collecting Interest.
Chapter 14: Checking the Books.
Chapter 15: Closing the Journals.
Chapter 16: Checking Your Accuracy – By Trial and Hopefully Not Error.
Chapter 17: Adjusting the Books.
Part V: Reporting Results and Starting Over.
Chapter 18: Producing a Profi t and Loss Statement.
Chapter 19: Developing a Balance Sheet.
Chapter 20: Reporting for Not-For-Profi t Organisations.
Chapter 21: Completing Year-End Payroll and Reports.
Chapter 22: Satisfying the Tax Inspector.
Chapter 23: Adding the Cost of Value Added Tax (VAT).
Chapter 24: Preparing the Books for a New Accounting Cycle.
Part VI: The Part of Tens.
Chapter 25: Top Ten Ways to Manage Your Business Cash with Your Books.
Chapter 26: Top Ten Most Important Accounts for Any Bookkeeper.
Glossary.
Index.