Bookkeeping For Dummies, Australian and New Zealand Edition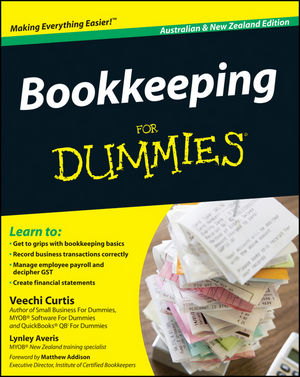 Bookkeeping For Dummies, Australian and New Zealand Edition
ISBN: 978-1-742-46998-0
Aug 2010
240 pages
Product not available for purchase
Description
Created especially for the Australian customer!
Take the stress out of bookkeeping with easy-to-follow advice from the experts
Do you have trouble balancing the books for your small business every month? Or are you a professional bookkeeper wishing to hone your skills? Whatever your bookkeeping needs, this practical guide to the ins and outs of business transactions will help you ensure that the numbers add up every time.
Follow the bookkeeping cycle -- make the end of the month hassle-free by recording transactions properly
Translate the financial lingo -- know your assets from your equity and don't get depressed about depreciation
Prepare financial reports -- understand how a business is doing by analysing Profit
Use accounting software -- throw out the shoebox of receipts and discover a new world of technology
Stay on the right side of the law -- tick all the boxes, from registering a business to paying employees correctly
Get qualified -- succeed in Certificate IV Bookkeeping with lots of tips and info for your core units
Crack the GST code -- keep the tax wolves from the door by calculating GST correctly
Tame the bookkeeping tiger -- understand accruals, general journals, inventory management and more
Introduction.
Part I: First Steps.
Chapter 1: Introducing the Bookkeeping Game.
Chapter 2: Creating a Framework.
Chapter 3: Going for the Big Equation.
Part II: Forming a Plan.
Chapter 4: Playing a Bookkeeper's Rhythm.
Chapter 5: Doing Business with Accounting Software.
Chapter 6: Safeguarding Against Fraud.
Chapter 7: Understanding GST.
Part III: Recording Day-to-Day Transactions.
Chapter 8: Recording Expenses and Payments.
Chapter 9: Recording Receipts and Sales.
Chapter 10: Paying Employees.
Chapter 11: Reconciling Accounts.
Part IV: Pulling It All Together.
Chapter 12: Reporting for Payroll.
Chapter 13: Managing Inventory and Other Assets.
Chapter 14: Mastering Tricky Situations.
Chapter 15: Checking Your Work.
Part V: Building Reports.
Chapter 16: Creating Financial Reports.
Chapter 17: Understanding Financial Reports.
Chapter 18: Starting a New Financial Year.
Part VI: The Part of Tens.
Chapter 19: Ten Tips for Not-for-Profi t Organisations.
Chapter 20: Ten Tricks for Collecting Money.
Chapter 21: Ten Words of Advice for Contract Bookkeepers.
Glossary.
Index.
Chapter
Page
Details
Date
Print Run
Errata for Australian and New Zealand edition
Please visit the Download tab to find the errata file for the Australian and New Zealand editions.
1/20/11

---