Bookkeeping Workbook For Dummies, UK Edition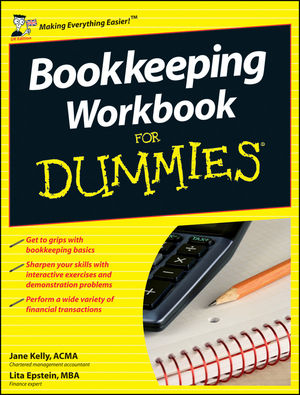 Bookkeeping Workbook For Dummies, UK Edition
ISBN: 978-1-119-99247-9
Dec 2010
296 pages
Product not available for purchase
Description
Fully updated for a UK audience Bookkeeping Workbook For Dummies is the easiest way to get up to speed in all the basics of bookkeeping: from setting up a bookkeeping system and recording transactions to managing payroll, preparing profit and loss statements, tackling tax and filing month and year end reports finances. Expert author Jane Kelly guides you step-by-step through every aspect of financial record and offers quick tips to help you work through the interactive exercises and practical problems encouraging you to find your own route to a solution and sharpen your skills along the way. Whether you're studying on a bookkeeping course or balancing the books in a small business this book is the fastest way to get started.

Bookkeeping Workbook For Dummies, UK Edition includes:

Part I: Exploring Bookkeeping Basics

Chapter 1: Deciphering the Basics
Chapter 2: Designing Your Bookkeeping System
Chapter 3: Sorting Out Your Business Road Map

Part II: Putting it All on Paper

Chapter 4: Looking at the Big Picture
Chapter 5: Journaling — The Devil's in the Details
Chapter 6: Designing Controls for Your Books, Your Records, and Your Money

Part III: Tracking Day-to-Day Business Operations with Your Books

Chapter 7: Purchasing Goods and Tracking Your Purchases
Chapter 8: Calculating and Monitoring Sales
Chapter 9:  Employee Payroll and Benefits

Part IV: Getting Ready for Year's (Or Month's) End

Chapter 10: Depreciating Your Assets
Chapter 11: Paying and Collecting Interest
Chapter 12: Checking Your Books
Chapter 13: Checking and Correcting Your Books

Part V: Reporting Results and Starting Over

Chapter 14: Developing a Balance Sheet
Chapter 15: Producing a Profit and Loss Statement
Chapter 16: Reporting for Not-For-Profit Organizations
Chapter 17: Doing Your Business Taxes
Chapter 18: Completing Year-End Payroll and Reports
Chapter 19: Getting Ready for a New Bookkeeping Year

Part VI: The Part of Tens

Chapter 20: Top Ten Checklist for Managing Your Cash
Chapter 21: Top Ten Accounts You Should Monitor
Chapter 22: Top Ten Problems You Should Practice
Introduction.
Part I: Exploring Bookkeeping Basics.
Chapter 1: Deciphering the Basics.
Chapter 2: Designing Your Bookkeeping System.
Chapter 3: Sorting Out Your Chart of accounts.
Part II: Putting It All on Paper.
Chapter 4: Looking at the Ledgers.
Chapter 5: Journaling – The Devil's in the Details.
Chapter 6: Designing Controls for Your Books, Your Records, and Your Money.
Part III: Tracking Day-to-Day Business Operations with Your Books.
Chapter 7: Purchasing Goods and Tracking Your Purchases.
Chapter 8: Calculating and Monitoring Sales.
Chapter 9: Paying Your Employees.
Part IV: Getting Ready for Year's (Or Month's) End.
Chapter 10: Depreciating Your Assets.
Chapter 11: Paying and Collecting Interest.
Chapter 12: Checking Your Books.
Chapter 13: Correcting Your Books.
Part V: Putting on Your Best Financial Face.
Chapter 14: Showing Everything's in Balance.
Chapter 15: Producing a Profi t and Loss Statement.
Chapter 16: Reporting for Not-for-profi t Organisations.
Chapter 17: Doing Your Business Taxes.
Chapter 18: Completing Year End Payroll and Reports.
Chapter 19: Getting Ready for a New Bookkeeping Year.
Part VI: The Part of Tens.
Chapter 20: Ten Top Ways to Manage Your Cash.
Chapter 20: Ten Top Accounts You Should Monitor.
Chapter 22: Ten Top Problems You Should Practise.
Index.