Boring Meetings Suck: Get More Out of Your Meetings, or Get Out of More Meetings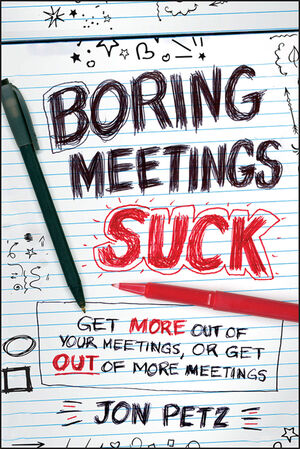 Boring Meetings Suck: Get More Out of Your Meetings, or Get Out of More Meetings
ISBN: 978-1-118-00462-3
Apr 2011
240 pages
Description
The guide that proves your meetings don't have to suck!
There's a big dull elephant in the boardroom: this meeting! Most of the millions of meetings held in the world today are a monumental waste of time and talent. Worse still, most of the so-called solutions and books for boring meetings are twice as boring.
Boring Meetings Suck provides tips and tactics to deliver "Get-In, Get-It-Done, or Get-Out" style meetings, while also tackling what most prefer to avoid; that you don't have to BE in charge of a meeting to TAKE charge of a meeting. This entertaining and take-no-prisoners guide is full of easily deployed SRDs?Suckification Reduction Devices?that will help you make your next meeting both efficient and effective.
Empowers attendees to politely speak up and get a meeting back on track, or graciously get out, without being fired
Shows how hosts can capitalize on technology, learning to crowd-source problems and increase participation
Defines surefire methods to get meetings to start and end on time and not have the speaker read the slides
STOPS over-invitation syndrome
The author has appeared before many major corporate clients, and was named a "Top Business Professional Under 40" by American City Business Journals
Your meetings do not have to bore, nor must they suck. Instead, get the winning techniques in Boring Meetings Suck, and make your meetings awesome in their engagement and productivity, or stop having them!
Foreword Don The Idea Guy Snyder.
Agenda Item 1.
Boring Meetings Suck . . . so Why Do We Have 'Em?
Hey, Not All Meetings Suck.
Nothing More Boring Than a Boring Book about Boring Meetings.
What's in It for You?
How Do You Use This Book? Jump in and Read the Agenda Item You Need.
Are You Ready to Make Meetings Rock?
Agenda Item 2.
Better Meetings and Conventions through Technology . . . but Please Proceed with Caution.
The Very Basics.
Enhanced Meeting Technologies.
For the More Adventurous.
For the Outright Daring.
Agenda Item 3.
How to Be a Meeting Superhero . . . in 10 Minutes or Less.
Part 1: New Meeting Styles.
New Meeting Style 1: ''Open House''.
New Meeting Style 2: ''Pass the Buck''.
New Meeting Style 3: ''Stand It Up''.
New Meeting Style 4: ''Triple T Your Way to New Ideas''.
Part 2: Speed Meetings.
Speed Meeting Type 1: ''Two 'n Out''.
Speed Meeting Type 2: ''Step It Up''.
Speed Meeting Type 3: ''I Gotta Use It''.
Agenda Item 4.
Why Everyday Office Meetings Suck . . . Skip This and You're Screwed.
Your Preparation Sucks.
Having No Agenda Sucks.
Your Follow-Up Sucks.
Scheduling a Meeting Sucks.
Warning: Problem Solving at 8 AM and 6 PM Sucks.
The Overinvitation Sucks.
Starting Late Sucks.
''Dogs Who Get Off the Leash'' Suck.
Conference Rooms Suck.
Agenda Item 5.
Your Presentation Sucks . . . Really, Yours Sucks.
PowerPoint Sucks.
''Um . . . aah'' Sucks.
PowerPoint Really Sucks.
Monotone Speeches and Movements Suck.
Unreadable Slides Suck.
Cutesy Moving Graphics Suck.
Agenda Item 6.
Make the Best of Sucky Meetings . . . or Get Out While You Can.
Never-Ending Meetings Suck.
Déjà Meetings Suck.
Project and Update Meetings Suck.
Scattered Showers' Meetings Suck.
Conference Calls Suck.
Sales Team Meetings Suck.
Online or Virtual Meetings Suck.
Videoconferencing Sucks.
Friday Meetings Suck.
Agenda Item 7.
Big Meetings Suck Even Bigger . . . Get Some Help or Suffer the Consequences.
Poorly Planned Meetings Suck.
Annual Meetings, Conventions, Teambuilding, and Company Retreats Suck.
Bad Audio Sucks.
Distractions Suck.
Guest Speakers Suck.
No Introduction and Bad Introductions Suck.
Bad Emcees Suck.
Agenda Item 8.
Heed This . . . or Continue to Suck for the Next Millennium.
Consider Not Having One.
What You Can Do When Stuck in a Boring Meeting.
Conclusion.
Acknowledgments.
About the Author.
Index.