Bounce!: Failure, Resiliency, and Confidence to Achieve Your Next Great Success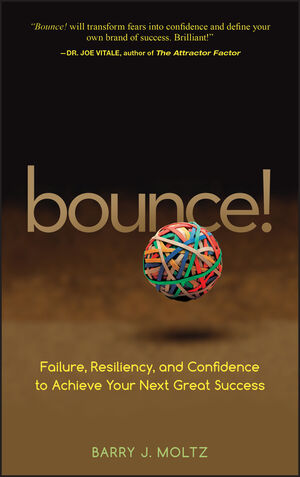 Bounce!: Failure, Resiliency, and Confidence to Achieve Your Next Great Success
ISBN: 978-0-470-22408-3
Jan 2008
256 pages
Description
Conventional business wisdom tells you that there's always something to learn from failure. Not true, says Barry Moltz. Sometimes, failure just stinks. Bounce! explains how success and failure are simply normal outcomes in the regular lifecycle of a business and that process over the long term matters far more than individual outcomes. This book shows you how to build a business that can "bounce" through these cycles for long-term success. If you run a business, better make it Bounce!
Preface.
Acknowledgments.
Chapter 1 Get Ready for Adventure: You Have Never Heard a Speaker Like This Before.
Chapter 2 Archetypes of Success: Be Careful What You Wish For.
Chapter 3 I 've Got Your One-Hit Wonder: 867-5309.
Chapter 4 The World from Here: Start Where You Are.
Chapter 5 Forget the Archetypes: Messy Lines Teach Humility.
Chapter 6 Failure Is an Option: Flying Fear in Formation.
Chapter 7 Embracing Failure When It Happens.
Chapter 8 Failure Provides Choices.
Chapter 9 Do It Anyway: Be a Smart Risk Taker.
Chapter 10 A Little DAB Will Do Ya! Drive, Accept, and Build.
Chapter 11 Goal Setting: Establishing Your Own Scorecard.
Chapter 12 No Longer Black and White: Measure for Success in Technicolor.
Chapter 13 Read This Book—Then Throw It Away.
Afterword.
Summary: The Ten Building Bands for True Business Confi dence.
Biographies of Featured Less-than-Famous Businesspeople.
Notes.
Index.