Bowling For Dummies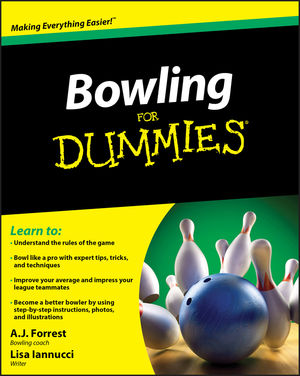 Bowling For Dummies
ISBN: 978-0-470-60159-4
Jul 2010
340 pages
Description
The fast and easy way to perfect your bowling game
Bowling is an inexpensive date, an affordable night out for the whole family, and a fun hangout activity for kids of all ages. Bowling For Dummies reveals the tips, tricks, and rules of play for this iconic American sport.
While not every player can hope to bowl 300, you can improve your average and show off for friends, family, and bowling league teammates. Bowling For Dummies provides easy-to-understand instructions for improving your bowling game. The expert tips and advice take you through every step of the game, from selecting the right shoes to the proper way to yell, ""Strike!""
Packed with photos and line drawings
Step-by-step instructions and illustrations included for all techniques
Covers beginner through more advanced techniques
Whether you're a casual bowler or on a bowling league, the practical, friendly advice in Bowling For Dummies will have you itching to hit the lanes to try out your new skills.
Introduction.
Part I: The Opening Frame.
Chapter 1: Welcome to the Wonderful World of Bowling.
Chapter 2: Getting Down to the Basics of the Game.
Chapter 3: Heading to the Center.
Chapter 4: Buying Your Own Ball, Shoes, and Accessories.
Part II: Body Basics: Throwing Yourself into the Game.
Chapter 5: Finding Your Form and Style.
Chapter 6: Positioning Yourself for a Smooth Approach.
Chapter 7: Throwing the Ball.
Chapter 8: Correcting Common Approach Problems.
Part III: Time to Get Rolling: Making Your Shot.
Chapter 9: Everything You Ever Wanted to Know about Hook Shots.
Chapter 10: Knocking 'Em All Down: The Secrets to Bowling Strikes.
Chapter 11: Picking Up Spares.
Chapter 12: Conquering Classic Splits.
Part IV: Staying on Your Game.
Chapter 13: Understanding the Ins and Outs of Oil on the Lanes.
Chapter 14: Staying in the Game, Physically and Mentally.
Chapter 15: Improving Your Game on Your Own or with a Coach's Help.
Chapter 16: Bowling When You Have Special Health Conditions.
Part V: Joining Others at the Center.
Chapter 17: Taking the Kids Bowling.
Chapter 18: Playing in Leagues and Tournaments.
Part VI: The Part of Tens.
Chapter 19: Ten Ways to Add 10 Points (Or More) to Your Score.
Chapter 20: Ten Tricks to Throwing a Great Hook.
Chapter 21: Ten Ways to Make Bowling More Fun.
Glossary.
Index.