Brain Games!: Ready-to-Use Activities That Make Thinking Fun for Grades 6 - 12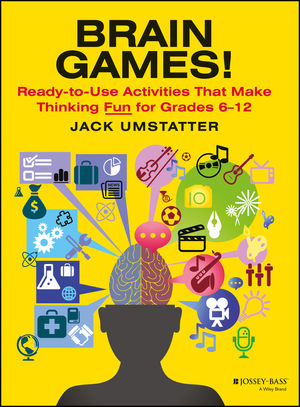 Brain Games!: Ready-to-Use Activities That Make Thinking Fun for Grades 6 - 12
ISBN: 978-0-876-28125-3
Jun 1996
272 pages
Description
Provides over 170 exciting, ready-to-use activities to spark critical & creative thinking in all students, grades 6-12! BRAIN GAMES! is an innovative resource that helps you quickly and easily turn virtually any spare moment into prime learning time for your students!
Buy Both and Save 25%!
Original Price:$59.90
Purchased together:$44.93
save $14.97
Cannot be combined with any other offers.
About this Resource.

SECTION ONE: LISTENING AND REMEMBERING.

Teacher Directions.

Activities 1-18.

Examples: "Stand and Deliver," "Does It Look the Same?" "Listen and Make the Changes," "Methods to Improve Your Memory," "Remembering the Order of People, Places, and Things," "Please Explain It to Me".

SECTION TWO: ACROSS THE CURRICULUM.

Teacher Directions.

Activities 19-51.

Examples: "The Who, the What, the Where," "What the Quote Means to Me," "Social Studies Guess Who I Am Game," "The Words (in Letters) of Famous Americans," "Potpourri Guess Me in Three Clues Game," "Faded Science Headlines".

SECTION THREE: LANGUAGE AND WRITING.

Activities 52-85.

Examples: "When the Action Fits the Mood," "How a Deed Becomes a Star," "Let's Eliminate War and Hate," "A Page of Tom Swifties," "Ted's Ripped Shopping List," "Reconstruct a Story Contest," "The Right Write Thing To Too Two Do Due Dew".

SECTION FOUR: LOGIC AND REASONING.

Activities 86-104.

Examples: "The Art of Organizing," "A Source of Analogies," "Mysterious Sequences," "Serious About Series," "The Scrambled-Up Trios," "Mets, Jets, Nets, and Other Sports Sets," "Know Us by Our Slogans".

SECTION FIVE: MATH.

Activities 105-125.

Examples: "The Big Leagues' Spring Training League," "The Percentages Are with You," "A Taxing Situation," "A Capital Experience," "It's Stopwatch Time!" "Math and the Movies," "Figuring Out the Ages and Numbers".

SECTION SIX: THE WORLD AROUND YOU.

Activities 126-153.

Examples: "Lights! Camera! Action!" "The World of Work," "All Roads Lead to Some Confusion," "Being Sensitive to Your Surroundings," "I Wish I Could Have Been There," "Connie's Confusing Calendar," "The Seven Necessary Occupations".

SECTION SEVEN: ME.

Activities 154-171.

Examples: "The Me Page," "Your Personal Wish List," "Looking at Literature," "In Touch with Your Emotions," "Parents," "A Page of Open-Ended Questions," "Where You Live," "A Change in Your Life," "Arguing Your Case," "Looking Ahead".

ANSWER KEY.