Brandywine Workbook in American History, Volume II: Since 1865, 7th Edition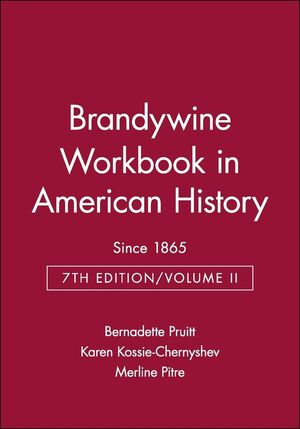 Brandywine Workbook in American History, Volume II: Since 1865, 7th Edition
ISBN: 978-1-881-08935-3 July 2003 Wiley-Blackwell 208 Pages
Description
Modern U.S. history supplement for active learning
The Brandywine Workbook in American History engages students in the study of our nation with challenging exercises that promote more active learning. Volume II: Since 1865 covers a period of dramatic change and upheaval for the U.S., from the Reformation through two world wars, the Great Depression, the Civil Rights Movement, and other landmark moments that highlight the best and worst of the American spirit. This workbook tracks the sequence of events that built our nation's character.
Table of contents
15. Succeeding in History Courses.
16. "Been in the Storm So Long": Emancipation and Reconstruction.
17. Industrialism and Labor Strife 1865-1900.
18. City and Farm 1865-1900.
19. Culture and Political Thought in an Industrializing Nation.
20. The Outward Thrust 1865-1909.
21. The Progressive Spirit 1900-1917.
22. Progressivism in Peace and War 1900-1918.
23. The New Era.
24. The New Deal.
25. Diplomacy and War 1933-1945.
25. Postwar Politics and the Cold War.
26. Consensus and Division: 1953-1965.
27. American Society and the Vietnam War.
28. New Boundaries.