Bread Machines For Dummies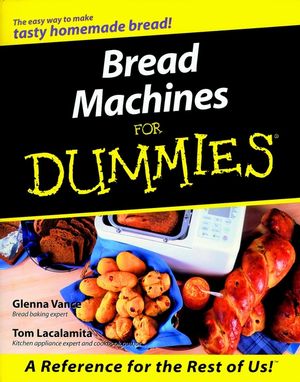 Bread Machines For Dummies
ISBN: 978-1-118-06927-1
Apr 2011
244 pages
Description
There's nothing like the smell and taste of fresh homemade bread. But who has the time to make it anymore? You do—with a little help from your automatic bread machine. All bread machines can make good bread; they just need a little help from you to turn out a good loaf. With a little practice and a lot of fun, you too can make freshly baked bread in your kitchen with the touch of a button.

Bread Machines For Dummies is for anyone who has ever been frustrated by a bread machine and wants to know if it's really possible to turn out great bread with a minimum of time and effort (it is!). This fun and easy guide shares simple techniques and more than 85 tested, foolproof recipes for making aromatic and flavorful breads—either for your bread machine or from dough that you shape yourself and bake in the oven. You'll see how to make:
Soft white bread
Cracked wheat bread
Basic danish dough
Babka and C hallah
Bread bowls
Bread sticks, pizza, and focaccia
And so much more!
This handy resource guide provides everything you "knead" to know about making bread, including the best ingredients to use, how to work with dough, and how to get the best results out of your machine. Along with plenty of cooking, measuring, and shopping tips, you get expert advice on how to:
Shape simple doughs into beautiful breads
Mix flours and liquids for perfect bread texture
Adapt machine recipes for two loaf sizes
Understand the different wheat flours
Fit bread into a gluten-free diet
Avoid moisture mistakes
Make breads with alternative ingredients such as rice flour, potato starch, and tapioca flour
Featuring a cheat sheet with standard measuring equivalents and temperature conversions, tips for troubleshooting your machine, and delicious recipes for such tasty delights as Cheddar Cheese Corn Bread, Pecan Sticky Rolls, Cranberry Nut Bread, and Banana Lemon Loaf, Bread Machines For Dummies reveals the best ways to bake, store, and enjoy your bread!
Recipes at a Glance.
Introduction.
PART I: HOMEMADE BREAD FROM THE BREAD MACHINE.
Chapter 1. Why an Automatic Bread Machine?
Chapter 2. Breads for a Healthy Diet.
PART II: GETTING THE BEST RESULTS FROM YOUR BREAD MACHINE.
Chapter 3. Flours for Breads.
Chapter 4. The Miracle of Yeast.
Chapter 5. Liquids: The Ingredients That Make It All Come Together.
Chapter 6. Sugar 'n' Spice and All Things Nice.
Chapter 7. Measuring 101.
Chapter 8. Working with Dough.
Chapter 9. The Rest of the Story.
PART III: BREAD AUTOMATICALLY WITH THE PUSH OF A BUTTON.
Chapter 10. Basic Breads.
Chapter 11. Hearty and Whole-Grain Breads.
Chapter 12. Super Fast Cycles.
Chapter 13. Celebrate the Seasons.
Chapter 14. Breads Extraordinaire.
Chapter 15. Bread Bowls, Bread Sticks, Pizzas, and Other Special Treats.
Chapter 16. Quick Breads.
chapter 17. Betty's Quick Breads.
Chapter 18. Breads for Alternative Diets.
PART IV: THE PART OF TENS.
Chapter 19. Ten Tips for Troubleshooting a Bread Machine.
Chapter 20. Ten Ways to Solve Bread Problems.
Index.
Book Registration Information.