Breaking Into Acting For Dummies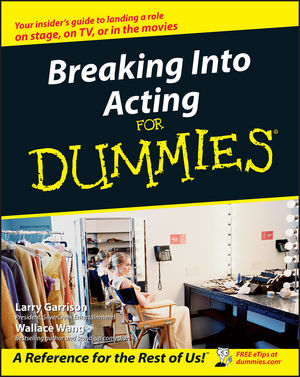 Breaking Into Acting For Dummies
ISBN: 978-0-764-55446-9 August 2002 360 Pages
Description
Provides the expert advice you need to get your big break!

Jump-start your career and land that paying part

From preparing for auditions to finding an agent, the acting business is a challenging and competitive field. This indispensable guide is what every aspiring actor needs to get a foot in the door. Discover how to market yourself, choose a dynamic head shot, create a stellar acting resume, join unions, and pay the bills while you pursue your acting dreams.

The Dummies Way
* Explanations in plain English
* "Get in, get out" information
* Icons and other navigational aids
* Tear-out cheat sheet
* Top ten lists
* A dash of humor and fun
Introduction.

Part I: Figuring Out the Business of Acting.

Chapter 1: Opening the Door to Show Business.

Chapter 2: Discovering How Show Business Really Works.

Chapter 3: From Agents to Unions: Introducing the Movers and Shakers of Show Business.

Part II: Packaging and Marketing Yourself.

Chapter 4: Making a Great First Impression with a Head Shot.

Chapter 5: Creating a Five-Star Acting Resume.

Chapter 6: Training to Improve Your Acting Skills.

Part III: Taking Your First Steps into Show Business.

Chapter 7: Getting Seen by the Industry: Promoting Yourself.

Chapter 8: Finding and Working with an Agent.

Chapter 9: Auditioning.

Part IV: Scoping Out the Markets.

Chapter 10: Acting in Film and Television.

Chapter 11: Acting in Commercials.

Chapter 12: Acting in Theater.

Chapter 13: Performing Without Being Seen: Voice-Over Acting.

Chapter 14: Working as an Extra.

Chapter 15: Getting Your Kid into Show Biz.

Part V: Managing Your Money as an Actor.

Chapter 16: Don't Get Ripped Off! Avoiding Con Games, Scams, and Self-Destruction.

Chapter 17: Working to Pay Your Bills Until You Hit It Big.

Chapter 18: Managing Your Finances.

Part VI: The Part of Tens.

Chapter 19: Ten Myths of Show Business.

Chapter 20: Ten Traits of Successful Actors.

Chapter 21: Ten Tips for Improving as an Actor.

Chapter 22: Ten Ways to Act Just for the Fun of It.

Index.