Breaking in to the Movies: Film and the Culture of Politics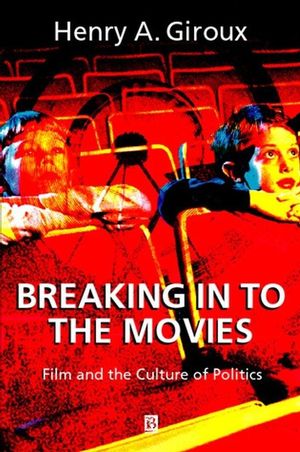 Breaking in to the Movies: Film and the Culture of Politics
ISBN: 978-0-631-22603-1 December 2001 Wiley-Blackwell 312 Pages
Description
Assessing film's unheralded--and unbridled--power as a "teaching machine," Breaking in to the Movies showcases Giroux's best-known film essays that address the profoundly pedagogical role film has come to play in contemporary culture.
Table of contents
Acknowledgements.
Breaking in to the Movies: An Introduction.
Part I: Reclaiming the Political in Popular Culture.
1. Norma Rae: Character, Class, and Culture.
2. Hollywood Film and the Challenge of Neofascist Culture.
3. Lina Wertmuller: Film and the Dialectic of Liberalism.
4. Looking for Mr. Goodbar: Gender and the Politics of Pleasure.
Part II: Hollywood Film and the War on Youth.
5. Slacking Off : Border Youth and Postmodern Education.
6. Culture, Class, and Pedagody in Dead Poets Society.
7. Children's Culture and Disney's Animated Films.
8. The Politics of Pedagogy, Gender, and Whiteness in Dangerous Minds.
9. Media Panics and the War Against "Kids": Larry Clark and the Politics of Diminished Hopes.
Part III: Race and the Culture of Violence in Hollywood Films.
10. Racism and the Aesthetic of Hyper-real Violoence: Pulp Fiction and other Visual Tragedies.
11. Multiculturalism and the Cultural Politics of Race in 187.
12. Brutalized Bodies and Emasculated Politics: Fight Club, Consumerism, and Masculine Violence.
Index.
Features


Showcases essays that highlight Giroux's career as one of the most astute observers of the Hollywood tradition.


Addresses films as "teaching machines" to both engage film as a form of public pedagogy and use film as a pedagogical resource .


Uses film to bridge the gap between the academic discourse of the classroom and issues that animate larger society.