Breaking the Leadership Mold: An Executive's Guide to Achieving Organizational Excellence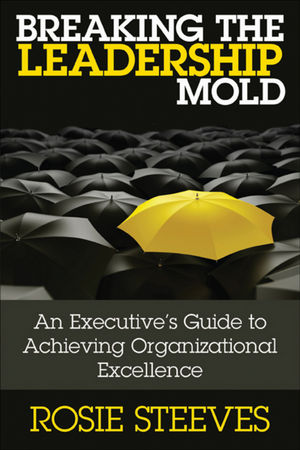 Breaking the Leadership Mold: An Executive's Guide to Achieving Organizational Excellence
ISBN: 978-0-470-68123-7
Aug 2010, Jossey-Bass
288 pages
Description
Much has been written about leaders and leadership. Journal articles, blogs and books try to home in on the essence of an effective leader. While there is common agreement that a executive's performance can make or break company, defining that essence of effective leadership remains the Holy Grail for those who find themselves at the top, for those who are responsible for carrying out the strategies and dictates of their managers, and for the shareholders who want to see commitment, action and positive financial return.

Breaking the Leadership Mold is designed to help senior executives and managers respond to the challenges of today and shed the vestiges of days gone by. In so doing they will better lead and enable their staff, and create a work environment that is healthy, engaging, productive and sustainable. Based on  the author's extensive research and 35 years' experience in working with local, national and international companies, Breaking the Leadership Mold offers 20 principles-such as Principle #10: Recognize How Executive Team Dynamics Promote Mediocrity and Principle #14: Get Other Executives On Board (or Out of the Way)--that when implemented will ensure that not only is there effective communication throughout the organization, from top to bottom and bottom to top, but also that employees and executives alike contribute to their full potential. The net result -- the organization wins on every measure. The 20 principles are built on the pillars of case studies, experience and research.

 Effective leadership is an absolute in any business environment, but becomes even more critical in times when businesses face unprecedented challenges and need to be nimble and responsive to change. Breaking the Mold has proven strategies to empower, unite and galvanize managers and employees -- and their organization - to enable them to prosper and adapt in a swift-changing environment. 
Preface.
Acknowledgments.
Part One.
Chapter One—Principle #1: Face the Facts.
Chapter Two—Principle #2: Break the Mold.
Chapter Three—Principle #3: Define a Better Way.
Chapter Four—Principle #4: Figure Out if You Have What It Takes.
Part Two.
Chapter Five—Principle #5: Give Yourself a Leadership Reality Check.
Chapter Six—Principle #6: Conduct a Personal Leadership Audit.
Chapter Seven—Principle #7: Embark On a Leadership Makeover.
Chapter Eight—Principle #8: Put Yourself First.
Part Three.
Chapter Nine—Principle #9: Understand What Could Be Amiss with Your Top Team.
Chapter Ten—Principle #10: Recognize How Executive Team Dynamics Promotes Mediocrity.
Chapter Eleven—Principle #11: Get the Top Team Working.
Chapter Twelve—Principle #12: Get the Board on Board.
Part Four.
Chapter Thirteen—Principle #13: Develop Everyone's Leadership.
Chapter Fourteen—Principle #14: Get Other Executives on Board (Or Out of the Way).
Chapter Fifteen—Principle #15: Figure Out Communication.
Chapter Sixteen—Principle #16: Create Communities.
Part Five.
Chapter Seventeen—Principle #17:Tell People How They're Doing.
Chapter Eighteen—Principle #18: Promote for the Future.
Chapter Nineteen—Principle #19: Integrate the Hard and the Soft.
Chapter Twenty—Principle #20: Never Stop.
Endnotes.
Bibliography.
Index.