Breakthrough: How Great Companies Set Outrageous Objectives and Achieve Them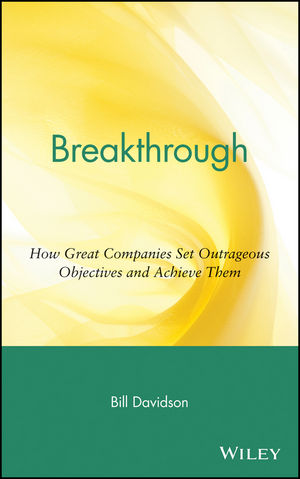 Breakthrough: How Great Companies Set Outrageous Objectives and Achieve Them
ISBN: 978-0-471-47740-2 May 2004 244 Pages
Download Product Flyer
Download Product Flyer
Download Product Flyer is to download PDF in new tab. This is a dummy description. Download Product Flyer is to download PDF in new tab. This is a dummy description. Download Product Flyer is to download PDF in new tab. This is a dummy description. Download Product Flyer is to download PDF in new tab. This is a dummy description.
Description
Breakthrough will help executives lead their teams to peerless, unsurpassed performance by helping them define a grand goal and engage the organization to pursue and achieve that goal, no matter how difficult the challenge seems. Based on a ten-year landmark study of more than seventy bold, breakthrough companies such as IBM, Dayton-Hudson, Progressive Insurance, EMC, American Standard, Charles Schwab, and Dell Computer, the book shows how these remarkable companies adopted outrageous objectives and then did what it takes to achieve remarkable results.
Table of contents
Chapter One: Breakthrough Dynamics.
Chapter Two: The Enterprise Principle.
Chapter Three: The Strategic Setting.
Chapter Four: Champions of Breakthrough.
Chapter Five: The Mindset of the Market Leader.
Chapter Six: Advice to Incumbents.
Chapter Seven: Aim, Ready, Fire.
Chapter Eight: The Leadership Factor.
Appendix I: Breakthrough Profiles.
Appendix II: Breakthrough Performance.
Post Face.
Index.
Reviews
Walking in the footsteps of Jim Collins's business bestseller Good to Great, Davidson (The Amazing Race) offers a prescription for corporate greatness based on his study of more than 7 high-performing companies. But while Good to Great focused on lesser-known firms, this volume looks to blue chips like IBM, Dell, Schwab, Caterpillar and ADS. Davidson's premise is that "breakthrough" companies achieve what they do by setting outrageous objectives and pursuing them with single-minded intensity. The go-for-broke, swing-for-the-bleachers approach that he favors means that there are plenty of intriguing innovations on display. For example, Progressive Insurance vowed to deliver the fastest claim resolution to auto policyholders and-taking that idea to its "outrageous" conclusion - broke the industry mold by putting claims agents in vans, ready to go at a moment's notice to meet a customer at the scene of an accident. However, the emphasis here is not on storytelling but on building a case for the "breakthrough" approach that can apply to the reader's own business. What's most impressive is that the companies cited are by and large established players who've radically transformed their operations, rather than startups that begin with a "clean slate." Overall, Davidson's argument is credible and logical; the trouble is, it's a little too familiar. So much has been written about corporate transformations through technology or re-engineering during and after the Internet bubble that it's hard to muster a sense of excitement or discovery. In the end, this is a worthy title, but one that lacks the "breakthrough" spark of visionary thinking to take it to the next level. (Nov.) (Publishers Weekly, November 3, 2003)
Features
The book is based on a landmark ten-year study of successful companies such as IBM, Dayton-Hudson, Dell and American Standard, and international companies that lead their categories, and have continued to be market leaders by setting, bold, outrageous objectives.
The companies and their leaders profiled in the book are constantly in the news and will serve as a good resource for students studying the principles of management.
Author Bill Davidson served as a tenured Professor of Management at the Marshall School of Business, University of Southern California from 1985 to 1998. An active researcher and writer, he was acknowledged as the most widely cited academic in the field of international management during the 1985-1995 decade. His book 20/20 Vision (with Stan Davis) was selected as the Best Business Book of the year by Fortune Magazine in 1992. He has written seven other books on management, including The Amazing Race.