Breakthrough Business Development: A 90-Day Plan to Build Your Client Base and Take Your Business to the Next Level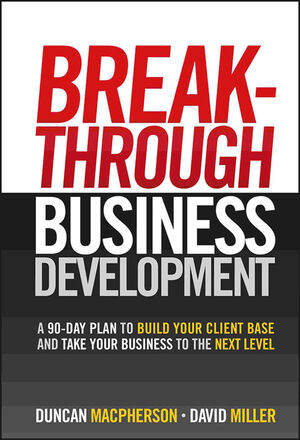 Breakthrough Business Development: A 90-Day Plan to Build Your Client Base and Take Your Business to the Next Level
ISBN: 978-0-470-73997-6
Mar 2010
224 pages
Product not available for purchase
Description
Increase Profits, Be more Organized, attract a Higher Quality & Quantity of Referrals, Run Your Business so That It Doesn't Run You, Take Your Business to the Next Level... With Breakthrough Business Development!

Breakthrough Business Development shows you how to attract and keep great clients, while running a profitable and efficient business. It helps every knowledge-for-profit professional to maximize your most valuable client relationships, and to develop a personalized business development plan to mine the untapped potential in your business.

Praise for the Pareto System, Featured in Breakthrough Business Development.

"I am just beside myself on the results gathered so far from instituting the Pareto System. I use an agenda for meetings now and have formulated a standard package given to new clients. Already I have sent out twenty thank-you cards to new referrals. I even got a referral from a referral if that makes sense. Some clients didn't know that I was still expanding my business. I am also finding advocates that I didn't classify as such. Opening twenty accounts in this short time span is amazing but already I have another ten leads in the pipeline. You guys were right, it does work."

"We have been building client relationships for 45 years... Pareto Systems successfully helped us to pause and then guided us through the process of defining the appropriate business structure and systems which will strengthen and enhance our best client relationships. We are now focusing on a comprehensive, systematized program for select clients. The results have been amazing-client satisfaction is way up and so are revenues."
Preface.
Acknowledgements.
Introduction: Overview of Our STAR Business Planning Process.
Part I: Strategic Analysis (Weeks 1-4).
Chapter 1. Your Untapped Opportunities.
Chapter 2. Marketing Pillars and the Loyalty Ladder.
Chapter 3. Your Overlooked Vulnerabilities.
Chapter 4. The Creation and Benefits of a Procedures Manual.
Chapter 5. Client Classification and Triple-A-An Ideal Client Profile.
Chapter 6. Build Client Chemistry with FORM.
Part 2: Targets and Goals (Week 4).
Chapter 7. Success Is Achieved by Design, Not by Chance.
Part 3: Activities: Your Business Development Actions (Week 5-12).
Chapter 8. Establish a Client-Centered Code of Conduct Using DART.
Chapter 9. Deserve.
Chapter 10. Ask.
Chapter 11. reciprocate.
Chapter 12. Thank.
Chapter 13. Prospect Target Marketing.
Part 4: Reality Check (Week 12).
Chapter 14. Holding Yourself Accountable.
Actionable Templates Archived on www.paretoplatform.com.
About Pareto Systems Customized Coaching and Consulting Services.
Pareto Platform Spotlight.
A Call to Action for Coaches Looking for Help with Implementation?
Index.