Breakthrough Business Negotiation: A Toolbox for Managers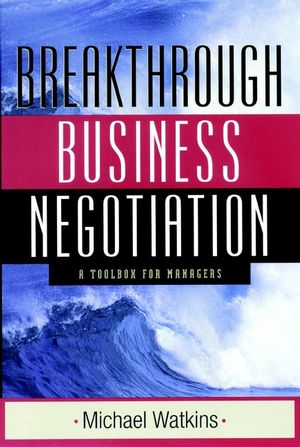 Breakthrough Business Negotiation: A Toolbox for Managers
ISBN: 978-0-787-96523-5 August 2002 Jossey-Bass 320 Pages
Description
Breakthrough Business Negotiation is a definitive guide to negotiating in any business situation. This smart and practical book by Michael Watkins, a leading expert in negotiation at Harvard Business School, presents principles that apply to any negotiation situation and tools to achieve breakthrough results. Step by step, Breakthrough Business Negotiation demonstrates how to diagnose a situation, build coalitions, manage internal decision making, persuade others, organize a deal cycle, and create strategic alliances. Watkins also explains how to prevent disputes from poisoning deals.
Table of contents
PREFACE.

INTRODUCTION.

PART ONE: FOUNDATIONS OF THE BREAKTHROUGH APPROACH.

CHAPTER 1. DIAGNOSING THE SITUATION.

CHAPTER 2. SHAPING THE STRUCTURE.

CHAPTER 3. MANAGING THE PROCESS.

CHAPTER 4. ASSESSING THE RESULTS.

PART TWO: BUILDING THE BREAKTHROUGH TOOLBOX.

CHAPTER 5. OVERCOMING POWER IMBALANCES .

CHAPTER 6. BUILDING COALITIONS.

CHAPTER 7. MANAGING CONFLICT.

CHAPTER 8. LEADING NEGOTIATIONS.

CHAPTER 9. NEGOTIATING CRISES.

CONCLUSION.

SUGGESTED READINGS.

ENDNOTES.

CONCEPTUAL GLOSSARY.

INDEX.
Reviews
"As a venture capitalist, I negotiate every day. Michael Watkins'sbook is the first I have found that truly grapples with thecomplications of real-world negotiations. I am struck by how oftenits tools and techniques apply to my past and current experiencesin negotiation. This book is a powerful tool for anybody who wantsto take control and come out on top. I wish I had read it twentyyears ago."
--John F. Eckert, founder and managing partner, McLean WatsonCapital Inc., and president, Canadian Venture Capital Association

"The best negotiators often seem to be guided by instinct, butMichael Watkins reveals powerful principles that can increaseanyone's effectiveness in negotiation. He lays out a clearframework for conducting complex negotiations so you can ask theright questions and focus on the right issues. He then demonstrateshow the framework applies to a variety of real-world dynamicsituations. I highly recommend this book."
--Steven Cohen, partner and specialist in mergers andacquisitions, Wachtell, Lipton, Rosen & Katz

"Breakthrough Business Negotiation deserves a spot on everynegotiator's bookshelf. Watkins has written a comprehensive guidethat makes the daunting task of negotiation approachable foreveryone. It is a rare gem that brings academic rigor to the realworld. Even the most experienced negotiator will find much that isfresh and enjoyable here."
--Rob Aiello, managing director, Updata Capital