Breakthrough Parenting for Children with Special Needs: Raising the Bar of Expectations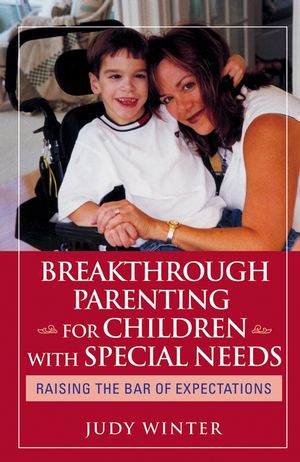 Breakthrough Parenting for Children with Special Needs: Raising the Bar of Expectations
ISBN: 978-0-787-98391-8
Mar 2006, Jossey-Bass
256 pages
Description
Breakthrough Parenting for Children with Special Needs challenges families and professionals to help children with special needs to reach their full potential by using a proven motivational, how-to approach. This groundbreaking and inspiring book provides detailed information on how to let go of the "perfect-baby" dream, face and resolve grief, avoid the no-false-hope syndrome, access early intervention services, and avoid the use of limiting and outdated labels. Also included are specific guidelines for working with professionals, understanding the law and inclusion, planning for the future, and insightful interviews with Dana Reeve of the Christopher Reeve Foundation, Tim Shriver of Special Olympics, and Diane Bubel of the Bubel/Aiken Foundation.
Foreword
Acknowledgments
Introduction: Raising the Bar of Expectations for Children with Special Needs
PART ONE: WELCOME TO BREAKTHROUGH PARENTING FOR CHILDREN WITH SPECIAL NEEDS
1. The Perfect-Baby Dream
2. First You Cry
3. No Labels, Yes Hope
PART TWO: GUIDELINES FOR THE PRESCHOOL THROUGH COLLEGE YEARS
4. The Pre-K and Elementary Years
5. Middle School, Junior High, and High School
6. Advocating for Techniques and Programs That Work
PART THREE: FOCUSING ON THE FAMILY
7. Embracing a New Definition of Family and Planning for the Future
8. Preserving Your Marriage, Caring for Yourself, and Surviving the Death of a Child
9. Meeting the Needs of Siblings
PART FOUR: HONORING SPECIAL NEEDS EXCELLENCE
10. Honoring Special Needs Excellence
About the Author.
This is the only special needs book I've ever read completely in one sitting. I literally couldn't put it down! Judy Winter's refreshing style – at once both loving and no-nonsense – makes you feel like you're with a friend you've known for years.…I love practical, and this book is packed full of tips and information you can USE.""
-Joan Celebi, Ed.M, CLC; Founder,
SpecialNeedsParentCoach.com
""Winter combines her talents for journalism and parenting in a book that is part inspiration, part how-to, and wholly optimistic about your family's survival as you take on the challenge of raising a child with special needs.""
– Terri Mauro, About.com
""In Breakthrough Parenting for Children with Special Needs (out last month from Jossey Bass), award-winning writer Judy Winter helps parents 'raise the bar of expectations' for their challenged children. Winter fought for a normal life for her son, Eric, before losing him to cerebral palsy. ""The demands of special needs challenged me to the limits of human endurance and helped me realize my most heartfelt life dreams, too,"" she writes. From getting over the myth of the perfect baby, to dealing with staring, to maneuvering the school system, her wisdom is both practical and inspiring.""
- Parenting Magazine, 2006