Breakthrough Performance: Accelerating the Transformation of Health Care Organizations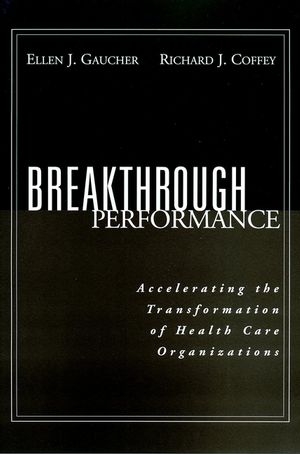 Breakthrough Performance: Accelerating the Transformation of Health Care Organizations
ISBN: 978-0-787-95231-0
May 2000, Jossey-Bass
352 pages
Description
Transform your organization. Learn to inspire the critical shared sense of urgency that is key to effective and successful innovation with acclaimed quality management gurus Ellen Gaucher and Richard Coffey as your guides. Drawing on analysis of the most current research and highlighting instructive case examples, Gaucher and Coffey will show you how to enhance organizational readiness and stimulate innovation beyond evolutionary incremental upgrades to achieve revolutionary breakthrough-level improvement in organizational performance.
Tables, Figures, and Exhibits.

Preface.

The Authors.

Health Care's New Sense of Urgency.

The Relationship Between Business Excellence and Breakthrough Performance.

Creating a Climate for Breakthrough Performance.

The Characteristics of Breakthrough Performance.

How Health Care Leaders Create Breakthrough Performance.

Sharpening Your Customer Focus.

Aligning the Organization for Action.

Team Culture for Breakthrough Performance.

Involving the Individual.

Seven Indispensable Tools for Breakthrough.

The Baldrige Criteria: Your Secret Weapon.

Conclusion.

Appendix A. A CompAndium of Questions for Breakthrough.

Appendix B. Actions to Achieve Breakthrough.

References.

Index.
"Contained in this book is the management framework for driving creativity, continuous improvement, and customer value. A must-read for health care executives and professionals looking to improve operational performance to meet dynamic customer expectations." --Dick Smith, partner, PricewaterhouseCoopers LLP

"This book is full of strategies for health care leaders to use to accelerate their improvement process." --Bob Parent, Conference Program Director, The Conference Board

"This book, based on the real world experiences of the authors, is a must-read for health care executives; it provides unique insights and practical advice about how to overcome the daunting challenges of today's health care marketplace." --Robert P. Kelch, dean, The University of Iowa College of Medicine