Breakthrough Thinking for Nonprofit Organizations: Creative Strategies for Extraordinary Results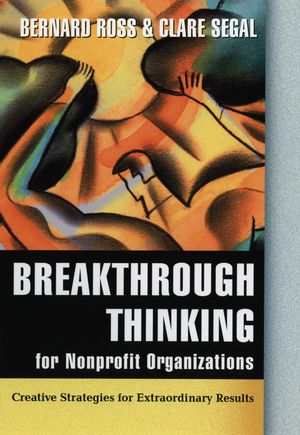 Breakthrough Thinking for Nonprofit Organizations: Creative Strategies for Extraordinary Results
ISBN: 978-0-787-95569-4
Oct 2002, Jossey-Bass
288 pages
Description
This groundbreaking book will help nonprofit managers think in new and creative ways about how they define and meet the challenges they face--and how to rise above standard practices to lift their organizations to greater performance levels. Using examples of best practices from innovative organizations in both the corporate and nonprofit worlds, Breakthrough Thinking for Nonprofit Organizations offers a mix of "how-to" advice and case studies that will guide readers on a new road to creativity. This book will fundamentally change the way nonprofit professionals think about how they do their work--and usher in a new era for nonprofits. 

2003 Terry McAdam Book Award Winner http://www.allianceonline.org/publications/mcadam_past_winners_1.page
Tables, Figures, and Exhibits.

Preface.

Acknowledgments.

The Authors.

Introduction: The Change Environment: Why GoodIsn t Good Enough Anymore.

1. Where Are You Starting Your Breakthrough From?Strategic Decisions-Simple Choices.

2. Second Wave Thinking: Moving Toward RadicallyDifferent Performance.

3. Setting Breakthrough Goals: Moving Beyond StretchGoals.

4. Unlocking Potential: The Strategic Role of Creativityand Innovation.

5. Releasing Creativity: Unleashing the Power of YourIntelligence.

6. Creating a Smart Organization: How to Help YourOrganization Learn.

7. Mapping the Possibilities: Organizing Your Thinkingfor the High-Payoff Idea.

8. Balancing Creativity and Innovation:How You Can Get to the Breakthrough.

9. Challenging Mind-Sets: Getting Rid of theCreativity and Innovation Killers.

10. Driving the Change: What You Can Do to EnsureYour Breakthrough Stays on Course.

11. Working in the Breakthrough Organization:How to Change the Way You Work to Prepare forBreakthrough.

Conclusion.

Select Breakthrough Thinking Booklist.

References.

Index.
"With refreshing insight, they provide specific steps and activities to help your company think truly outside the box." (Stage Directions Magazine, April 2003)