Breeding Major Food Staples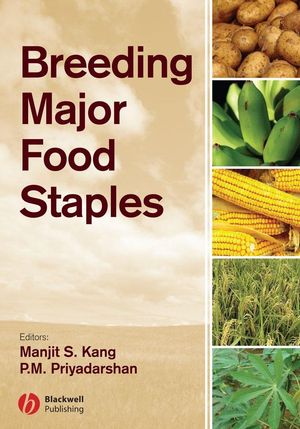 Breeding Major Food Staples
ISBN: 978-0-470-37644-7 April 2008 Wiley-Blackwell 437 Pages
Description
As the world's population increases the need to produce greater quantities of major staple crops such as wheat, rice, maize, potato, cassava, soybean, sweet potato, barley, and banana in order to sufficiently feed the people of the world continues to grow. Breeding Major Food Staples covers improving yields and quality of these crops through breeding and the use of molecular biology tools such as gene transfer, genome mapping, biofortification, and bioinformatics. This book will be an important reference for anyone working in crop breeding.
Table of contents
Foreword (Gurdev S. Khush).
Preface (Manjit S. Kang and P.M. Priyadarshan).
Part 1: General Topics.
Chapter 1: Crop Breeding Methodologies: Classic and Modern (Manjit S.Kang, Prasanta K. Subudhi, Niranjan Baisakh, and P.M. Priyadarshan).
Chapter 2: Genetic Enhancement of Polypoid Crops Using Tools of Classical Cytogenetics and Modern Biotechnology (Prem P. Jauhar).
Chapter 3: Biofortification: Breeding Micronutrient-Dense Crops (Wolfgang H. Pfeiffer and Bonnie McClafferty).
Chapter 4:Bioinformatics and Plant Genomics for Staple Crops Improvement (David Edwards).
Part 2: Cereals and Oil/Protein Crops.
Chapter 5: Breeding Spring Bread Wheat for Irrigated and Rainfed Production Systems of the Developing World (Ravi P. Singh and Richard Trethowan).
Chapter 6: Rice Breeding for Sustainable Production (Sant S. Virmani and M. Ilyas-Ahmed).
Chapter 7: Barley Breeding for Sustainable Production (Salvatore Ceccarelli, Stefania Grando, Flavio Capettini, and Michael Baum).
Chapter 8: Corn Breeding in the Twenty-first Century (G. Richard Johnson).
Chapter 9: Soybean Breeding Achievements and Challenges (Silvia R. Cianzio).
Part 3: Carbohydrate Suppliers: Rood Crops and Banana.
Chapter 10: Breeding Potato as a Major Staple Crop (John E. Bradshaw).
Chapter 11: Breeding of Sweetpotato (S.L. Tan, M. Nakatani, and K. Komaki).
Chapter 12: Cassava Genetic Improvement (Hernan Ceballos, Martin Fregene, Juan Carlos Perez, Nelson Morante, and Fernando Calle).
Chapter 13: Banana Breeding (Michael Pillay and Leena Tripathi).
Index
Reviews
"…comprised of informed and informative essays…offering state-of-the-art technical information…An impressive body of scholarship… should be considered a fundamental cornerstone acquisition for all…reference collections."
Midwest Book Review

Features


Chapters on breeding of all major food staples

New and renowned methodologies for breeding

A separate chapter on bioinformatics

International field of academics and scientists contributing chapters