Brewing Yeast Fermentation Performance, 2nd Edition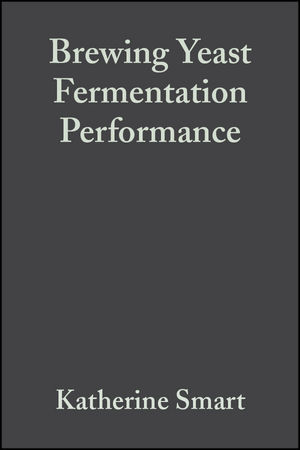 Brewing Yeast Fermentation Performance, 2nd Edition
ISBN: 978-0-470-69604-0 April 2008 Wiley-Blackwell 336 Pages
Description
Building on the success of the first edition, Brewing Yeast Fermentation Performance, Second edition considers the importance of yeast quality on fermentation performance and the means by which process control may therefore be achieved.





Contributions from leading international brewing technologists from industry, research institutes and academia ensure that the coverage is practically oriented, commercially relevant and academically rigorous. Contents include up-to-date coverage of key aspects of the subject, including molecular innovations, yeast stress responses, wort composition, yeast quality, beer flavour development and yeast handling.





Brewing Yeast Fermentation Performance is an essential purchase for commercial brewers at all levels, technical personnel and allied traders associated with the brewing industry. It is an excellent companion reference source to the first edition, covering complimentary topics that no one connected to the brewing industry can afford to be without. Libraries in universities and research establishments where food and beverage science and technology and microbiology are studied and taught should have multiple copies on their shelves.
Contributors.
Preface to the Second Edition.
Part 1 - Molecular Innovations.
1. Analysis of karyotypic polymorphisms in a bottom fermenting yeast strain by PCR.
2. Fast detection of beer spoilage microorganisms by consensus-PCR with foodproof beer screening.
Part 2 - Brewing yeast stress responses during handling.
3. The impact of ethanol stress on yeast physiology.
4. Yeast physical (shear) stress: the engineering perspective.
5. The osmotic stress response of ale and lager brewing yeast strains
6. Brewing yeast oxidative stress responses: impact of brewery handling.
Part 3 - Wort composition - impact on yeast metabolism and performance.
7. Wort composition and beer quality.
8. Wort substitutes and yeast nutrition.
9. Wort supplements - from yeast and for yeast.
10. Unsaturated fatty acid supplementation of stationary phase brewer's yeast and its effects on growth and fermentation ability.
11. Impact of wort composition on flocculation.
Part 4 - Yeast quality maintenance and assessment.
12. Management of multi-strain, multi-site yeast storage and supply.
13.Comparison of yeast viability/vitality methods and their relationship to fermentation performance.
14. Yeast quality and fluorophore technologies.
15.Vitality assessment using the fluorescent stain fun-1.
16. Flow cytometry - a new tool in brewing technology.
17. Comparison of the methylene blue assay with a new flow cytometric method for determining yeast viability in a brewery.
Part 5 - The role of brewing yeast in beer flavour development.
18. Diacetyl-Formation and disappearance during lager fermentation.
19. The formation of higher alcohols.
20.Methionine, a key amino acid for flavour biosynthesis in beer.
21.Control of ester synthesis during brewery fermentation.
22. Genetic regulation of ester synthesis in yeast: new facts, insights and implications for the brewer.
Part 6 - Yeast handling - objectives, obstacles and opportunities.
23. Yeast propagation.
24. Serial repitching fermentation performance and functional biomarkers.
25. The impact of yeast cell age on fermentation, attenuation and flocculation.
26.Chronological and replicative lifespan in lager brewing yeast.
27.Continuous primary fermentation of beer with immobilised yeast.
Index.
* Second book in this series of essential guides to brewing yeast and their management
* Practical up-to-date review of technology and how it can be controlled
* Written by experts from leading brewers and university-based scientists
* Essential reference source and entry-point for the surrounding literature
* Topics covered include: impact of wort composition on yeast performance and beer quality; yeast quality and maintenance; yeast handling management and stress control; flavour development and final product quality; and innovations in molecular technology