Brief Therapy and Eating Disorders: A Practical Guide to Solution-Focused Work with Clients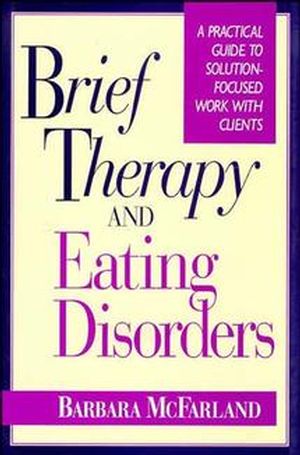 Brief Therapy and Eating Disorders: A Practical Guide to Solution-Focused Work with Clients
ISBN: 978-0-787-90053-3 March 1995 Jossey-Bass 284 Pages
Description
In straightforward, clear, and pragmatic language, McFarlandpresents a model that focuses on strengths rather than weaknesses,on solutions rather than problems, and on hope rather than despair.Her book should be on the shelf of every clinician who works withclients who have eating problems.
--Scott D. Miller, Brief Therapy Network

Drawing from her own clinical experience, Barbara McFarlanddemonstrates how solution-focused brief therapy is one of the moreefficient approaches in treating eating disorders. Her practical,hands on strategies and interventions guides you through each stepof the treatment process.
Introduction: Using Solution-Focused Brief Therapy with EatingDisorder Clients.

Shifting Paradigms: Beyond Sickness.

Transforming Clinical Assumptions: Becoming Mindful.

The Changing Therapeutic Relationship: The Art ofCollaboration.

The First Sessions: Key Interviewing Questions.

Working with Challenging Cases: Useful Interventions.

Solution-Focused Group Therapy: A Program Description.

Epilogue: Through the Looking Glass.

Resources: Self-Reporting Forms.

Appendix A. Assessment Tools.

Appendix B. Working with the Miracle Question.

Appendix C. Progress in Treatment.

Appendix D. Goals.

Appendix E. Aftercare Planning.

Appendix F. Progress in Recovery.
"Using a wealth of clinical examples, and offering a creative arrayof techniques and strategies, McFarland has put together apractical, hands-on manual for dealing, in a time-effective manner,with clients struggling with eating disorders. This book will be auseful resource for clinicians in the trenches!" --Steven Friedman,Harvard Community Health Plan

"With this book, the eating disorders field has finally maturedpast describing the problem and developed a solution orientation.Traditionally, bulimic and anorexic clients have been viewed asdifficult to help and long-term treatment candidates. McFarlandshows there are ways to treat these problems efficiently andeffectively.... Having treated eating disorders with traditionalpathology-based and long-term approaches for many years, McFarlandis a credible advocate of this new, more brief, and managed-carefriAndly method. Extremely well-written and readable." --WilliamHudson O'Hanlon, coauthor, In Search of Solutions and A Brief Guideto Brief Therapy

"Barbara McFarland's book will empower clinicians and clientsalike. With a masterful grasp of therapy trAnds, she distills herwisdom in years of treating this difficult problem and describesher own journey to more effective treatment. Clinicians will find agreat deal of specific help and potent concepts." --Lynn D.Johnson, director, Brief Therapy Center, Salt Lake City

"In straightforward, clear, and pragmatic language, McFarlandpresents a model that focuses on strengths rather than weaknesses,on solutions rather than problems, and on hope rather than despair.Her book should be on the shelf of every clinician who works withclients who have eating problems." --Scott D. Miller, Brief TherapyNetwork

"An encouraging work that offers more realistic hope for theclients and recognizes and builds on their strengths. This book isrecommAnded reading for anyone who has an interest in the treatmentof eating disorders." --Maren Engel, Canadian Journal ofOccupational Therapy