Bringing College Education into Prisons: New Directions for Community Colleges, Number 170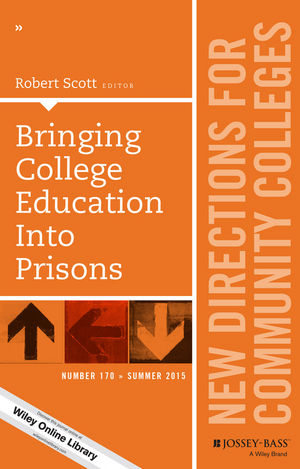 Bringing College Education into Prisons: New Directions for Community Colleges, Number 170
ISBN: 978-1-119-10716-3 June 2015 Jossey-Bass 120 Pages
Download Product Flyer
Download Product Flyer
Download Product Flyer is to download PDF in new tab. This is a dummy description. Download Product Flyer is to download PDF in new tab. This is a dummy description. Download Product Flyer is to download PDF in new tab. This is a dummy description. Download Product Flyer is to download PDF in new tab. This is a dummy description.
Description
This sourcebook introduces the basic concept of college in prison, describes programs that exist across the country today, and considers the challenges and opportunities facing community college educators who are interested in the growing movement to reintroduce postsecondary education to America's prisons. Not only do the authors write from their personal experience as educators, they also expound on many issues that arise in prison teaching, including:
the clash between college assumptions and prison rules,
the complete absence of public funding for college in prison,
the racial dimension of mass incarceration, and
insights on key issues facing college educators in the prison context today.
This is the 170th volume of this Jossey-Bass quarterly report series. Essential to the professional libraries of presidents, vice presidents, deans, and other leaders in today's open-door institutions,
New Directions for Community Colleges
provides expert guidance in meeting the challenges of their distinctive and expanding educational mission.
Table of contents
EDITOR'S NOTES 1
Robert Scott
1. Localizing Prison Higher Education 9
Doran Larson
This chapter describes methods for funding community programs in prison in the context of national and international political economy of mass incarceration.
2. College Inside: A Case Study of the Design and Implementation of a Successful Prison College Program 19
Betsy Simpkins
This chapter describes a specific initiative to offer a college program within the Oregon Department of Corrections, with a focus on the interpersonal and interinstitutional relationships needed to build such programs.
3. Community Colleges and Spanish Language Instruction: Peer Pedagogy in Prison 31
Jenifer D. Drew, Jos´e Duval, James R. Cyr
Three authors describe a collaboration between a Massachusetts college and a nearby prison, which leveraged the volunteer efforts of a college professor by including incarcerated men who assisted in Spanish language teaching inside and outside the classroom.
4. The Challenges and Rewards of Teaching Spanish in a Community College Prison Program 41
Erick Nava Palomino, Lee Ragsdale
Two authors describe how teaching Spanish in an Illinois prison led them to rewrite the examples used in a Spanish textbook and engage incarcerated students in novel ways in order to make up for the lack of conventional classroom resources.
5. A Call for Cultural Democracy 51
Daniel E. Graves
In this chapter, an incarcerated student in Illinois discusses the issue of cheating/plagiarism in the prison context and weighs in on the value of vocational education compared to degree-granting academic programs in prison.
6. The Transformative Power of Sankofa: Teaching African History Inside San Quentin State Prison 57
Nathaniel B. D. Moore
This chapter describes the author's experience teaching ethnic studies inside a unique California prison, and calls for college-in-prison educators to engage culturally appropriate curricula to realize the full transformative potential of the prison classroom.
7. Developing a Prison Education Pedagogy 67
Tony Gaskew
This chapter calls for educators to specifically engage the needs of African-American men, who often comprise the largest demographic in prison, in what the author calls the Humiliation-to-Humility Perspective.
8. Teaching Academic Writing in a Maximum Security Women's Prison 79
Jane Maher
In this chapter, the author describes her experience teaching in a women's prison in New York, the challenges that arose with teaching autobiography, and the distinct situation of women behind bars.
9. Prison Fine Arts and Community College Programs: A Partnership to Advance Inmates' Life Skills 89
Larry Brewster
This chapter describes the contribution of art education to the wider project of prison education, and posits a "natural partnership" between prison arts and community college programs in prisons.
10. College Civic Engagement and Education Behind Bars: Connecting Communities, Creating Change 101
Mary Rachel Gould, Gillian Harkins, Kyes Stevens
In this provocative chapter, three authors engage the battle of ideas that undergird thinking about prison today, and they call for a reconceptualization of prison education in terms of a participatory model rather than thinking of it as a "service."
INDEX 111