Bringing Peace Into the Room: How the Personal Qualities of the Mediator Impact the Process of Conflict Resolution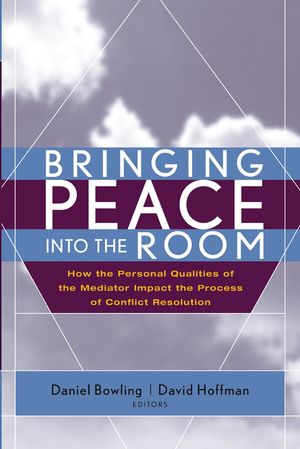 Bringing Peace Into the Room: How the Personal Qualities of the Mediator Impact the Process of Conflict Resolution
ISBN: 978-0-787-96850-2 September 2003 Jossey-Bass 322 Pages
Description
Bringing Peace Into the Room examines the personal qualities that make a mediator effective. The eminent authors of this volume go beyond traditional descriptions of academic training, theoretical orientation, and refinement of technique to confront issues related to personal temperament and the crucial psychological, intellectual and spiritual qualities of the mediation professional— qualities that are often the most potent elements of successful mediation. In this comprehensive resource, Daniel Bowling and David Hoffman bring together a stellar panel of practitioners, academics, teachers, and trainers in the field— Michele LeBaron, Kenneth Cloke, Robert Benjamin, Don Saposnek, Sara Cobb, Peter Adler, Jonathan Reitman, Lois Gold, Marvin Johnson, and others— ¾who share their personal experiences as mediators. Each contributor demonstrates that at the very heart of conflict resolution is the subtle interaction between the parties and the mediator's personal and authentic style.
Introduction (Daniel Bowling and David A. Hoffman).
1. Bringing Peace into the Room: The Personal Qualities of the Mediator and Their Impact on the Mediation (Daniel Bowling and David A. Hoffman).
2. What Are the Personal Qualities of the Mediator? (Kenneth Cloke).
3. Unintentional Excellence: An Exploration of Mastery and Incompetence (Peter S. Adler).
4. Managing the Natural Energy of Conflict: Mediators, Tricksters, and the Constructive Uses of Deception (Robert D. Benjamin).
5. Trickster, Mediator's Friend (Michelle LeBaron).
6. Emotionally Intelligent Mediation: Four Key Competencies (Marvin E. Johnson, Stewart Levine, and Lawrence R. Richard).
7. Paradoxes of Mediation (David A. Hoffman).
8. Mediation and the Culture of Healing (Lois Gold).
9. Creating Sacred Space: Toward a Second-Generation Dispute Resolution Practice (Sara Cobb).
10. The Personal Qualities of the Mediator: Taking Time for Reflection and Renewal (Jonathan W. Reitman, Esq.).
11. Style and the Family Mediator (Donald T. Saposnek).
12. Tears (David A. Hoffman).
13. Mindfulness Meditation and Mediation: Where the Transcendent Meets the Familiar (Daniel Bowling).
Suggestions for Further Reading.
Notes.
The Contributors.
Index.