Bringing the Internet to School: Lessons from an Urban District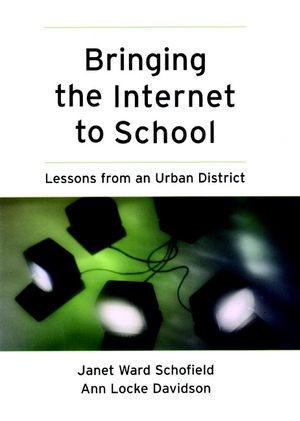 Bringing the Internet to School: Lessons from an Urban District
ISBN: 978-0-787-95686-8 March 2002 Jossey-Bass 416 Pages
Description
Bringing the Internet to School presents the results of one of the first comprehensive studies of Internet-implementation in K-12 schools. Based on the information gleaned from this groundbreaking study, two experts in the field of high-technology and schools, Janet Ward Schofield and Ann Locke Davidson, examine the myriad issues that arise when the Internet is introduced into the classroom. This important book reveals the positive and negative consequences that Internet use has on classroom equity, academics, and social life. For example, while Internet access often changes student-teacher roles and relationships in positive ways and gives students new, exciting, and useful source for information and feedback, it also provides students with a tempting distraction from their studies and can exacerbate inequities in the classroom. Throughout the book, the authors illuminate the ways in which the existing culture and structure of schools shape Internet use, the ways students' and teachers' experiences are affected by it, and the technical and systemic challenges involved in bringing the Internet to schools.
Preface.

The Authors.

1. Introduction.

2. Building Demand and Support for Internet Use Among Educators.

3. School Versus Internet Culture: Implications for Communication with the Outside World.

4. How School Culture and Structure Shape Internet Use.

5. Achieving Internet Use: Lessons from NET Schools.

6. Classroom Change Accompanying Internet Use.

7. Teacher and Student Outcomes Related to Internet Use.

8. Achieving Institutionalization.

9. Conclusion.

Appendix.

References.

Name Index.

Subject Index.
For the last decade, school reform has become almost synonymous with initiatives to provide schools with computers and access to the World Wide Web. If students and teachers could just get hooked up to all that electronic information, the argument goes, schools would be radically transformed, student achievement would soar and educational inequities would disappear. Not quite, say Schofield and Davidson, authors of this provoking, thoroughly researched and clearly written report. After a five-year study into the implementation of computer technology in one school district, the authors argue that the extravagant claims of Internet-for-education proponents must be tempered by an actual understanding of how school cultures both shape-and are shaped by-technological innovation. Not surprisingly, the positive and negative consequences of Internet use in schools practically mirror each other. While the Internet supports virtually unlimited exploration, this can distract students and take them ""off-task."" It can expose students to a variety of viewpoints, but many of these are highly controversial or lack credibility. The use of computers can support increased students' autonomy regarding their learning, but teachers may feel that they are losing control of the curriculum. Other barriers, such as lack of time for teachers to prepare lessons and inadequately functioning machines are perhaps more easily addressed, given sufficient resources. For educators, administrators and policy makers who want to make the most of the Internet, this guide provides meager practical solutions but much food for thought. (Mar.) (Publishers Weekly, February 4, 2002)

This is a fascinating and timely analysis of the Networking for Education Testbed (NET), a five-year National Science Foundation program designed to foster the use of the Internet in schools. Schofield (psychology, Univ. of Pittsburgh; Computers and Classroom Culture) and Davidson (Making and Molding Identity in Schools) touch on issues related to educational leadership (e.g., how to foster the adoption of new technologies and new approaches to pedagogy), educational reform (e.g., changes at the district, building, and classroom level), and the sociology of the teaching profession. Their study offers concrete examples of both the benefits and the challenges associated with using the Internet in the classroom and demonstrates a number of ways in which the roles of teachers and students can be affected by the adoption of the new technology. As more and more schools implement technology and make use of the wide variety of information resources available over the Internet, the lessons learned by these ""earIy adopters"" remain invaluable. Recommended for academic, professional education, and technology collections. --Scott Waltelr, Washington State Univ., Pullman (Library Journal, March 15, 2002)