Britain and the Middle East in the 9/11 Era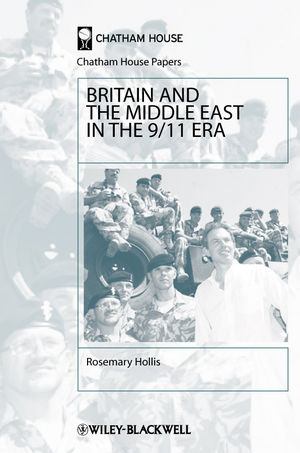 Britain and the Middle East in the 9/11 Era
ISBN: 978-1-405-10298-8 March 2010 Wiley-Blackwell 234 Pages
Description
This authoritative book examines British policy in the Middle East, focusing on how Britain's response to 9/11 – particularly the decision to join the US invasion of Iraq – has affected its role and relations in the region.
Establishes what was 'new' about the New Labour approach and policies towards the Middle East and what changed as a result of 9/11 and the 'war on terror'
Analyses in detail how the Blair government handled the Iraq crisis, invasion and fallout, including developments in relations with Iran
Documents Britain's 'niche' role in the Middle East peace process.
Argues that arms sales, trade and finance bind Britain to the Arab Gulf states
Traces Britain 's involvement in US–regional security arrangements
Table of contents
Introduction.
Chapter 1: Historical Background: Stages in the Relationship.
Chapter 2: New Labour Worldview and the Middle East.
Chapter 3: New Labour: New Policy-Making Process.
Chapter 4: Britain's Role in the Peace Process: 1997 to 2001.
Chapter 5: The Road to War in Iraq.
Chapter 6: Reaping the Whirlwind: the Fallout from the Invasion of Iraq for British Relations across the Middle East.
Part I: Inside Iraq.
Part II: Around the Region.
Chapter 7: Realpolitik and the Peace Process after 9/11.
Chapter 8: Still Flying the Flag: Britain and the Arab Gulf States.
Chapter 9: Conclusions.
Index.
Reviews
'A wonderful and fascinating contribution to our understanding of Britain's place in the morass created by 9/11. This is the first work to set these current events in their true historical context. An absolute must for anyone wishing to understand the UK's role in the wider Middle East, placed four-square within the story of our journey from Empire to conflicted transatlantic European power.'
—
Jon Snow, Newscaster, Channel 4 News
'Rosemary Hollis combines breadth of vision with painstaking attention to detail in this comprehensive analysis of New Labour and the Middle East. Anyone who wishes to understand the complexities of the region and the impact on British foreign policy of our relationship with the United States need look no further.'
—Sir Menzies Campbell MP, former leader, Liberal Democrats
'This account of Britain's role in the Middle East under New Labour is a well-written and significant contribution to our understanding of the modern Middle East. It not only sheds light on the Blair government's involvement in Arab–Israeli peacemaking and the post-9/11 'war on terror', but also enhances our understanding of EU involvement and US leadership. Required reading for anyone seeking to understand how events have unfolded in the region in the past ten years.'
—Yossi Alpher, former director, Jaffee Center for Strategic Studies
'From her unique vantage point at the intersection of government, academia, civil society and London's diplomatic corps, Dr Hollis incisively dissects Britain's relations with the Middle East under New Labour as well as Blair's path to war in Iraq. This is as close to a definitive account as we are going to get for some time.'
—Tarak Barkawi, Senior Lecturer, Politics and International Studies, University of Cambridge
Features
Examines British policy in the Middle East, focusing on how Britain's response to 9/11 – particularly the decision to join the US invasion of Iraq – has affected its role and relations in the region Establishes what was 'new' about the New Labour approach and policies towards the Middle East and what changed as a result of 9/11 and the 'war on terror' Analyses in detail how the Blair government handled the Iraq crisis, invasion and fallout, including developments in relations with Iran Documents Britain's 'niche' role in the Middle East peace process Argues that arms sales, trade and finance bind Britain to the Arab Gulf states Traces Britain's involvement in US–regional security arrangements