British Association of Dermatologists' Management Guidelines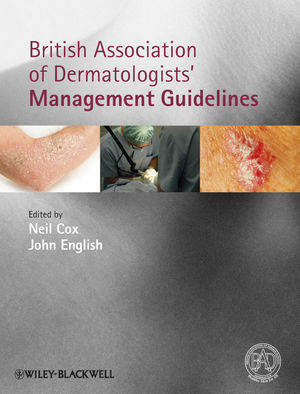 British Association of Dermatologists' Management Guidelines
ISBN: 978-1-444-33552-1 April 2011 Wiley-Blackwell 344 Pages
Description
Evidence-based, peer reviewed, best-practice management guidelines for dermatologists
Incorporates the basic guidelines that have been expanded with extra material including:
Web address for the guideline
Editorial comment
Links to additional guidelines from other international organizations
Links to the BAD's patient-information leaflets
Other patient-oriented information.
The guidelines themselves are grouped for ease of use into:
Dermatoses
Infections
Neoplasms
Specific therapeutic agents
The guidelines provide a thoroughly rounded and grounded approach to best-practice dermatologic management using evidence-based principles with additional access to patient-oriented information. For fast access to proven standards of care, dermatologists worldwide can turn to the BAD Management Guidelines with confidence.
Table of contents
A tribute to Professor Neil H. Cox (
John S.C. English
).
Introduction (Colin Holden).
Preface (Neil H. Cox and John S.C. English).
Background to the British Association of Dermatologists clinical guidelines (Neil H. Cox and John S.C. English).
Writing a British Association of Dermatologists clinical guideline: an update on the process and guidance for authors (H.K. Bell and A.K. Ormerod).
Guideline topics.
1 Inflammatory Dermatoses.
Alopecia areata.
Bullous pemphigoid.
Contact dermatitis.
Lichen sclerosus.
Pemphigus vulgaris.
Urticaria.
Vitiligo.
2 Infections.
Cutaneous warts.
Onychomycosis.
Tinea capitis.
3 Neoplasms.
Actinic keratoses.
Basal cell carcinoma.
Bowen's disease.
Squamous cell carcinoma.
Melanoma.
Cutaneous T cell Lymphomas.
4 Specific therapeutic agents.
Acitretin.
Azathioprine.
Biological agents in psoriasis.
Isotretinoin in acne.
Ultraviolet radiation (dosimetry and calibration).
Topical PUVA.
Topical photodynamic therapy.
Index.